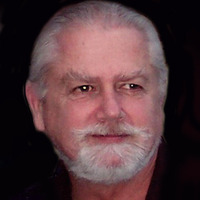 Errol Dennis Duvall "Denny" 78, of Mechanicsville MD, was called home to be with our Lord and savior in the early morning hours on Thursday July 22, 2021.

He was born September 3, 1942, to the late John C. Duvall and Lucille C. (Saunders) Duvall, and raised in Washington, DC, where he graduated from Anacostia High School, while spending summers and countless weekends at his grandparents farm in Tazewell County VA. He spoke fondly of these places that were a significant part of his youth, and the lifelong friends he made along the way.

He had a passion for art, fishing, and cracking open a few cold ones, which kept him busy most of his life. His love of art and woodworking allowed him to enter the profession of custom picture framing which provided him a lengthy career. Whether it was spontaneous fishing trips, gardening, or tinkering in his wood shop, his hands were never idle and always dirty. Memories of early mornings on a river bank with a line in the water, his avid culinary skills, silly demeanor, and unforgiving tenacity to cause a scene will forever be engrained in our hearts.

Along with his parents, he was preceded in death by his loving sister Judith Caroline Duvall. Left to cherish his memory are his lovely wife of 55 years Patricia (O'Donnell) Duvall of Mechanicsville, MD; his children Michael Duvall (Ruth) of Queensbury, NY; Aaron Duvall of Charlotte Hall, MD; Melissa Duvall of Waldorf, MD; three granddaughters, and a host of very special friends and adoring cousins. He will be affectionately missed by many.

The family would like to thank the staff at St. Mary's Hospital and Hospice of St. Mary's for the attentive and special care they provided for him and our family. Per his wishes, there will not be a service at this time. However, a Life Celebration will be announced at a later date. In lieu of flowers, the family requests that a donation be made in his memory to the American Cancer Society.

Condolences to the family may be made at www.brinsfieldfuneral.com

Arrangements by the Brinsfield Funeral Home & Crematory, P.A. Charlotte Hall, MD.