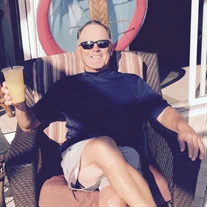 Charles "Michael" (Wire) Bollo of Calvert County, MD passed away on July 22, 2021 at his home in North Beach, MD. He was born August 8, 1954 in Washington, DC to the late Joseph and Margaret Bollo.

Michael was a career Fire Fighter in Prince George's County, MD and an avid golfer. He holds the course record "61" at Twin Shields Golf Club. Michael enjoyed his winters in Punta Gorda, FL. and his summers in Calvert County, MD.

Michael is survived by his wife Christine Bollo, his son and three grandchildren as well as one brother and one sister.

The family will receive friends at Lee Funeral Home Calvert, 8200 Jennifer Lane, Owings, MD 20736 on Friday, July 30, 2021 from 2:00 PM – 4:00 PM and 6:00 PM – 8:00 PM where a Memorial Service will be held at 7:00 PM with Fire Department prayers recited. Interment will be private.