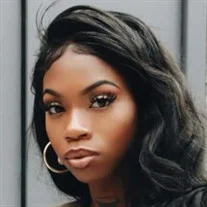 On July 5, 2021 at 6:05PM, Ashley Ranita Thompson gained her wings at University of Maryland Medical Center in Baltimore, Maryland. Ashley was born on December 1, 1994 in Charles County, Maryland to the late Mary Catherine Riley (Peaches) and the late Dennis Johnny Thompson. Ashley was educated in the Charles County Public School System receiving her high school diploma. She was a loving mother, sister, aunt and caring friend.

Ashley was an Entrepreneur with many talents. Not only was she a freelance makeup & tattoo artist, she also started businesses to include "717 Dream Creations" with customized bracelets and "Lensologist Photography". Ashley enjoyed drawing, painting, roller-skating, boxing, poetry, scrapbooking, fashion, and modeling. She loved to dance and spend time with her cousins and friends; especially TikTok dances with Skylar. She loved to read and her favorite book was "I Believe in Visions". Ashley lived free and fearless, always enjoying a challenge. Giving up was never an option. Her personality and smile were contagious. She achieved many of her goals she had set for herself; however, she was most proud of being an amazing mother to Skylar.

In addition to her mother and father, she was preceded in death by her grandparents, Albert Andrew, Sr., Dorothy Marie Adams (Riley), James Dennis and Mary Thompson; uncles, Albert A. Riley, Roosevelt M. Riley, Willie T. Riley, and Kenneth Thompson.

She leaves to cherish her precious memories her daughter, Skylar Denver Payne; stepfather, Antivone Young; stepmother, Selina Smith; brother, Larry Andre Thompson; sisters, Denise Riley, Katrena Johnson, and Denette Thompson; nieces, Kimaya and Datrina; nephews, Kamari, Kamren, Ronald, and Demetrius; uncles, Henry (Playboy), Joseph (Glen) Riley, John, Howard, Daniel (Karla), Mark, Eugene, and Joseph Thompson; aunts, Daisy Stewart (Pat), Barbara Riley (Tracy), Marlene (Tina) Lyles (Clarence), Ruth (Diane) Montgomery (Charles), Joan Wallace, Connie Simms Mary, Viola, and Christine Thompson; and a host of beloved cousins and friends.

Visitation on Tuesday, July 20, 2021 from 9-11AM at St. Joseph's Catholic Church HALL, 4590 St. Joseph Way, Pomfret, Maryland 20675 followed by a Mass of Christian Burial at 11AM at St. Joseph's Catholic CHURCH. Interment to follow at St. Charles Cemetery in Glymont, Maryland.