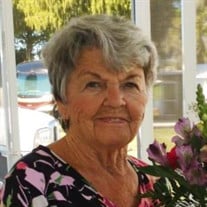 Paula Ann Springer of California, MD passed away on July 7, 2021, at home under the care of her loving family and Hospice of St. Mary's.

Paula was born October 23, 1938 in Baraboo, Wisconsin, daughter of Gordon and Paula (Griggs) Weiske. She graduated from Baraboo High School, and joined the US Air Force and served at Charleston AFB, SC, where she met and married William Joseph Geidner, and together they had four daughters.

She was preceded in death by her parents, daughter Laurene Tilton, and brothers John and Thomas Weiske.

She is survived by her beloved husband Judson Springer, devoted daughters; Teresa Clark (Matt), Pamela Yount (Kenneth) and Melanie Valdez (Fred) and their children (Jamie, Stephanie. Alan, Nicholas, Allison, Olivia and John), along with stepchildren Judson Springer (Melissa) and Robert Springer (Becky) and their children (Maggie, Grant, James, Jessica, Joshua and Joseph), sister Teri Finnegan (James), and son-in-law Russell Tilton. She had great pride and joy in her children, grandchildren and great-grandchildren, and nieces and nephews.

She found love again and married Jud Springer in 1992, and they built a beautiful, loving life together. They shared many loves including the beach, boating, fishing, gardening, attending live music concerts, vacationing, and spending time with friends, neighbors and family.

Paula had a successful career with both Andrews Federal Credit Union and Pentagon Federal Credit Union.

Paula was a warm, loving and generous child of God. She formed and nurtured many deep friendships throughout her life. She had a special way of connecting with both people and canines. Her legacy will live on through her husband, children, family, and friends. She will be forever missed and loved.

The family will receive friends at Lee Funeral Home Calvert, 8200 Jennifer Lane, Owings, MD 20736 on Friday, July 16, 2021 from 11:00 AM – 1:00 PM. A Memorial Mass will be celebrated at Jesus the Good Shepherd Catholic Church 1601 West Mount Harmony Road, Owings, MD 20736 on Friday, July 16, 2021 at 2:00 PM. Interment will be held at Arlington National Cemetery at a later date.

In lieu of flowers, please consider a donation to Hospice of St. Mary's P.O. Box 625 Leonardtown, MD 20650 or St. Jude Children's Research Hospital 501 St. Jude Place Memphis, TN 38105.

The family of Paula Springer will host a gathering at Mamma Lucia's in Dunkirk directly following the memorial Mass. Please join us for food, drink and sharing memories of Paula.