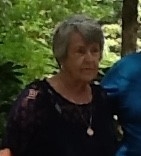 Barbara J. Nelson of Dowell, MD died on July 1, 2021 at her residence. She was born in Astoria, NY on February 15, 1932 to the late Lucia Turner Dunham of Oklahoma City, OK and the late Charles E. Moran of Hunns Lake, NY. She attended schools in New York and Oklahoma City. She married her husband Clifford C. Nelson in Oklahoma City in 1955 and was preceded in death by him in 1994. She and her husband moved numerous times in conjunction with her husband's career, living in Oklahoma, Delaware, Maryland, Ohio, Illinois, and Virginia. They settled in Calvert County in 1986.

Barbara is survived by her four children, Sheri Waters and husband John of Glen Burnie, MD, Scott Nelson and wife Cathy of Manokin-Sabot, VA, Kevin Nelson of Hopewell, VA, and Leslie Amburn and husband Preston of King William, VA; seven grandchildren; five great grandchildren; sister, Judith L. Hicks of Edmond, OK; three nieces and one nephew.

The family will receive friends at the Rausch Funeral Home, 20 American Lane, Lusby, MD on Friday, July 9, 2021 from 12:00 pm to 1:00 pm where a funeral service will be held at 1:00 pm with Fr. Nathan Beall officiating. Interment will follow in Middleham Chapel Cemetery, Lusby, MD. In lieu of flowers the family request contributions to be made to the Solomons VRSFD, P.O. Box 189, Solomons, MD 20688 and or to the Shriner's Hospital for Children c/o India Temple, 3601 NW 36th , Oklahoma City, OK.