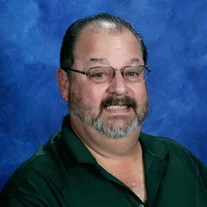 Ronald Phillip Tyrrell, of Owings, MD passed away on Thursday, July 1, 2021 at the age of 65. Ronald, known to most as Ron or Ronnie, was born in Kittery, Maine. He was in a military family that found their way from Maine to Massachusetts, onto Virginia, finally to Maryland where he spent the majority of his life.

Ron was a fighter and overcame many health battles but was taken as a result of one of the hobbies he enjoyed. After learning about the depletion of bees, and the impact the diminishing population has on our environment, he took up beekeeping. On Sunday, June 13th Ron was checking on his bees with his wife when an aggressive hive attacked him. He sustained numerous bee stings which caused anaphylactic shock and ultimately resulted in cardiac arrest. The lack of oxygen while he was unconscious caused anoxic brain damage which took Ron's life in the early hours of the morning on July 1st.

Ron leaves behind his wife and best friend Brenda Tyrrell (Case) and children, Stacey (Luke) Strutt and Ryan (Jessica) Tyrrell. He was the proud grandfather (Pop-Pop) to Caden Douglass, Archer and Holden Strutt, as well as Lexington and Bristol Tyrrell.

Devoted brother to Debra Tyrrell, Cynthia (John) Hunt, Pamela (Robert) Graf and brother-in-law to James (Lisa) Case, Dale (Tracy) Case, Justin (Trisha) Case, and Jason (Jamie) Case.

He was the son of the late Majorie (Henley) and Frederick Tyrrell and predeceased by brother David Lord.

Fondly remembered by his many nieces, nephews, cousins, extended family, colleagues, good friends, and not to be forgotten by thousands of Calvert County's residents who knew him as Mr. Ronnie of Prime Time Children's Center.

Ron had many vocations. In his early years he started working at a gas station, where he serviced vehicles and then he was a security officer. He became a counselor at Melwood, which is a nonprofit providing jobs and opportunities for people with disabilities. He was a truck driver and then rounded out his career at PEPCO. In 37 years of working at PEPCO, before retiring, Ron held roles from meter reader, meter installer, and then to electric thief investigation working with the US Marshals.

Ron, alongside his beloved Brenda, owned and operated Prime Time Children's Center in Owings, MD for over 30 years. Mr. Ronnie spent countless hours at the center helping to keep it running smoothly and providing care to Calvert's children.

He was a rare combination of someone who had a love of life and a firm understanding of what was important, which was the simplicity of living a life with those you love.

Ron enjoyed being a volunteer firefighter and EMT for the North Beach Volunteer Fire Department, in North Beach, MD.

His hobbies and interests were countless. They ranged from woodworking to boating, RVing to fishing, cooking to beekeeping, and always keeping up on the latest technology gadgets. Far above all other activities, his favorite thing was spending time with his family. He loved watching Caden play baseball, cooking with Archer, playing on the xBox with Holden, listening to Lexi's imaginative storytelling, and snuggling with Bri.

Family and friends may pay their respects at the Lee Funeral Home Calvert, 8200 Jennifer Lane, Owings, MD 20736 on Friday, July 9, 2021 from 3:00 PM to 7:00 PM. A Funeral Service will be held on Saturday, July 10, 2021 at 10:00 AM in the Funeral Home Chapel. Interment will follow at Lakemont Memorial Gardens Cemetery 900 West Central Avenue, Davidsonville, MD 21035.

A Celebration of Life will occur directly following the ceremony at the North Beach Volunteer Fire Department.

In lieu of flowers, those who wish to make memorial donations in memory of Ron may make them to the National Kidney Foundation at www.kidney.org or the National Brain Tumor Society at nbtsevents.braintumor.org, both of which are near and dear to him as a kidney transplant receiver and brain tumor survivor.