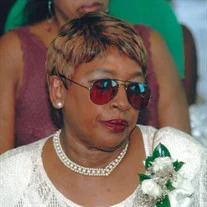 Alice Louise Watts-Briscoe, 83, daughter of the late George Sherman and the late Rosie Elizabeth Watts, was born on January 25, 1938 in La Plata, Maryland. She departed this life on Saturday, June 26, 2021 at Charles Regional Medical Center in La Plata, Maryland.

Alice attended Charles County Public Schools and was very well known on Oak Avenue. She held various jobs during her lifetime and retired from the Patuxent Management Company in 2002. She loved cooking for her family and friends, as well as playing cards and "Holding That King." Most of all, she was devoted to her family, friends and her Cat named "Baby."

In addition to her parents, Alice was preceded in death by her husband, Blane A. Briscoe; granddaughter, Andrea Davis; sisters, Mary Ann Tolson, Lucille Watts and Ella Lee Winters; brothers, Sherman Watts and John Watts; and brother-in-law, Joseph Winters.

Alice leaves to cherish her memories, children, James Lee (June), Thomas Cole (Sheila), Sharon Woolfork (Calvin), Mitchell, Delores, Janice, Lisa, Terry and Eric Cole; brother, William Watts (Carol); grandchildren, Earl Goosby, Jason Thompson, Stephanie Gross, Jamar Stringer, Latisha Wallace, Latisha Courtney, Princess Brown, Joy and Amos Gaines III, Jeffrey, Eric, Renee, Tyler, Erica and Roxanne Cole; and a host of great-grandchildren, great-great-grandchildren, nieces and nephews; and god-children, Yvonne Winters-Mock, Mary Watts and Keisha Watts.

A Visitation will be held on Saturday, July 3, 2021 from 11:00am until time of Mass of Christian Burial at 12:00pm at Sacred Heart Catholic Church, 201 St. Mary's Avenue, La Plata, Maryland 20646. Interment to follow at Sacred Heart Catholic Church Cemetery in La Plata, Maryland.

Pallbearers will be John Watts, Jr., Gary Cole, Michael Hawkins, Sr., David Farmer, Roland Neal and John Farmer. Honorary Pallbearers will be James Lee, Thomas Cole, Mitchell Cole, George Cole, Terry Cole and Eric Cole.