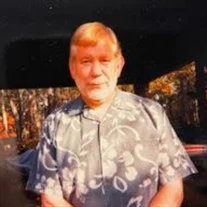 Dennis Allen Brown, 71, of La Plata, Maryland passed away from various illnesses on June 21, 2021 at the Charlotte Hall Veteran's Home in Charlotte Hall, Maryland.
Dennis was born on January 24, 1950 to Virginia Ann Valentine and Walter Allen Brown in Washington, D.C.. He was later raised by both Virginia and her second husband, Ottie T. Vipperman. Dennis eventually enlisted in the U.S. Army in 1968 as a Military Police Officer and served in Vietnam from December 1968 until January 1970 where he was awarded the Bronze Star for Gallantry in the Field. After Vietnam, Dennis returned to Maryland and married Cynthia Myles in 1974 who was with her son Alex. They would together add Bryan and Virginia to the family and resided in the Waldorf/La Plata area.
Dennis is survived by former spouse Cynthia Johnson of La Plata, MD and three Children, Alex (49), from San Antonio, TX, Bryan (44) from Towson, MD, and Virginia (35) from Waldorf, MD. He is also survived by his half-brother Bob Vipperman from Asheville, NC, two Step-Sister's - Judith McVay and Carmen DiMartino, three Step-Brother's – Thomas, James, and Chris. Lastly, he is survived by his only Granddaughter – Nancie of San Antonio, TX.
Dennis was preceded in death by his Mother – Virginia Ann Valentine, Father – Ottie Thomas Vipperman, and Brother – Ottie Thomas Vipperman, Jr.. Services will be held at Raymond Funeral Home on Thursday July 1, 2021 at 2pm. In lieu of flowers, please consider a donation to Charlotte Hall Veteran's Home.