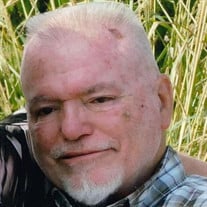 Jerry Ray Orfield, 78, of Waldorf, Maryland, passed away suddenly on Friday, June 25, 2021 at his home.

Born on January 11, 1943 in Washington, DC, he was the son of the late Henry Clifford Orfield and Virgie Beatrice Orfield. Jerry grew up in Washington D. C. and graduated from Anacostia High School in 1962. Following graduation Jerry went on to work for C & P Telephone Company and continued in that field through many telephone company name changes for 34 years. He retired in 1998 from White House Communications Agency (WHCA). Jerry liked to race his 1962 Chevy Impala Super Sport at Aquasco Speedway, Capital Speedway, and of course Pennsylvania Avenue extended when challenged to a race at the Mighty Moe. He enjoyed all types of classic cars, (mainly Chevys), woodworking, collecting guns, watching the Washington Redskins, photography, and creating a variety of cartoon illustrations of funny moments, but most of all he loved spending time with his family. Family was the most important thing to him. He always said he had the best family.

Jerry met the love of his life, Jackie, in the spring of 1964 and they married in November 1966. Jerry loved and cherished every moment of their life together.

In addition to his parents, Jerry was preceded in death by his two brothers, Gary L. Orfield and Larry H. Orfield, Sr.

He is survived by his wife of 54 years, Jacqueline M. Orfield; 4 children - Karen Burke (John), Cliff Orfield (Angela), Kate Gardiner (David) and Dan Orfield (Ali); 8 grandchildren - Samantha Rye, Kiersten Holmes, Sean Fowler, Selena Fowler, C. J. Orfield, Kylie Gardiner, Cruz Orfield, and Gavin Gardiner; 2 great grandchildren - Leighton Roof and Ryleigh Pingley; sister Peggy J. Vailati; special nephew Larry H. Orfield Jr. and many other nieces, nephews, and extended family and friends.

A visitation will be held on Friday, July 2, 2021 from 10AM until time of service at 11AM at LifeStream Church of the Nazarene, 5105 Leonardtown Road, Waldorf, Maryland 20601 with Pastor Jared Willemin officiating.

Interment to follow at Trinity Memorial Gardens, 3221 Mattawoman-Beantown Road, Waldorf, Maryland 20601. Pallbearers are Cliff Orfield, Dan Orfield, Larry Orfield, Jr., David Gardiner, Sean Fowler, and Rich Fowler - all were very special to Jerry.

In lieu of flowers memorial contributions may be made to LifeStream Church of the Nazarene, 5105 Leonardtown Road, Waldorf, Maryland 20601.