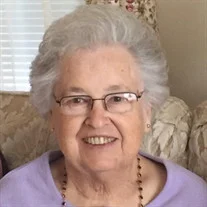 Betty Allison, 85, of La Plata, Maryland, was called home on Tuesday, June 15, 2021. She was a beloved mother, grandmother and great-grandmother.

Betty Yvonne Romanough was born at home on November 24, 1935, to the late Miriam Sarah Roberts Thompson and William Albert "Bud" Romanough. Miriam was a homemaker and worked as a seamstress and dress maker at a local factory that produced children's clothing. Budd worked as cement truck driver, and as a slate and gravel quarryman, a common occupation in the Delta area.

Betty grew up in the Peach Bottom area of Delta, situated near the Susquehanna River and less than 2 minutes away from the Maryland state border. When she was young, her neighbors included her Uncle Arthur and Aunt Mary and Cousin Joan Romanough. She grew up with her half-brothers Wilbur, Warren Jr., and half-sister Sarah. The family did not have electricity or running water until they moved into a new house when Betty was 11 or 12 years old.

Betty attended Delta Grade School. Starting at age 14 or 15, Betty worked in the evenings as a dress maker at the same factory as her mother and later working there on a full time basis.

Betty met Homer Allison on a blind date in 1956. The date was arranged by Betty's best friend, Billie Allison who was married to Homer's brother Guy. At the age of 21, Betty married Homer on August 1, 1957, at the Trinity Lutheran Church in Hagerstown, MD. They first established house together in Magnolia, Delaware, located near Dover Air Force Base, where Homer was stationed. Later when Homer was transferred to Andrews Air Force Base, the family moved to Charles County, Maryland and purchased a house in Bryans Road.

A devout Christian throughout her life, Betty was a member of the United Methodist Church and attended Shiloh, Pisgah, Indian Head and Chicamuxen United Methodist Churches over the years. She served in many roles in her church community including as Financial Secretary for Indian Head UMC. While primarily a mother and homemaker, Betty worked as a school bus driver for the Charles County Public School System and later at the Hallmark store in the Bryans Road Shopping Center.

Betty returned to her maker on June 15th after a long period of challenging heath issues. Betty is survived by her daughters, Kathleen, Maureen, and Carla, grandchildren, Shannan, Benjamin, Hannah, Erin, Kimberly, Ian and Bobby, and great-grandchildren, Allison, Zoey, Claire, Elizabeth, Brooks, Sammy, Matthew and Joshua. She is preceded in death by her husband, parents, siblings and grandson, Neil.

All Services for Betty will be private.