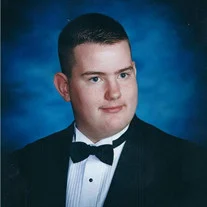 Eric Austin Ford, 35, of Waldorf, Maryland, passed away on June 8, 2021. He was born to his late parents, June Marie Ford and William Odell Ford Sr., on June 7, 1986 in La Plata, Maryland.

Eric graduated from La Plata High School in 2004 and was the Vice President for Mars Restoration located in Clinton, Maryland. He enjoyed many hobbies and passions in life, the first passion being his family. His happiest moments were spent surrounded by family and friends. Eric was proud of his job working alongside his business partner and best friend, Salvatore Francis Pirozzi. He was the biggest Dallas Cowboys fan and an excellent role model to his younger siblings. Anyone who had the pleasure of knowing him can attest to his way of energizing a room with his glowing personality.

Eric is survived by his sisters, Tiffany Marie Ford, Candy Ford, and Kim Ford-Wilson; his brothers, Brandon Walker and William "Billy" Odell Ford II; and many loving cousins, aunts and uncles and nieces and nephews.

He was preceded in death by his mother, June Marie Ford; father, William Odell Ford Sr., and his sister, Nicole Danielle Ford.

Visitation on Wednesday, June 16, 2021 from 10AM until time of Funeral Service at 12PM at Raymond Funeral Service Chapel, 5635 Washington Avenue, La Plata, Maryland 20646, followed by a burial service at 1PM where he will be laid to rest next to his mother at Trinity Memorial Gardens located at 3221 Mattawoman Beantown Road, Waldorf, Maryland 20601.