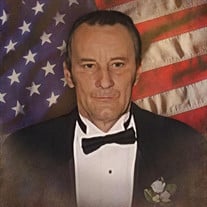 Gerald "Jerry" H. Scott, Sr., age 73 of Waldorf, Maryland passed away on June 7, 2021 at his home surrounded by his loving family.

Jerry was the son of Charles H. Scott and Lucy P. Scott. In addition to his mother, he is survived by his wife, Margaret "Peggy" L. Scott; his children, Jeri Lynn Nelson (Johnny), Gerald "Scottie" H. Scott, Jr., and Wendy D. Nelson (Kevin); his grandchildren, Courtney A. Mills (Brian), Aaron M. Mills (Megan), Cody S. Scott (Kelsey), Jerry Dakota "Bubba" Scott, Colby M. Nelson, Garrett R. Nelson, Randall P Nelson, and Jackie M. West; his great grandchildren, Aiden M. Howlan, Colton J. Mills, Carter A. Hauk, Jayla S. Arms; and his siblings, Delores Wathen, Violet Garner, Nancy St.Clair-Abell, Shirley Grow, and Barbara Jean Wicker.

Jerry married Margaret "Peggy" L. Rollins on June 10, 1967. He proudly served in the United States Army for six years (1968-1974). He was employed by Avis, Barnes Chevrolet, and Duffy's Bus Service (part-time) before settling in at the State Highway Administration (La Plata) in 1981 until he retired in 2010. He enjoyed riding snowmobiles, going camping with family and friends, racing at Potomac Speedway on Friday nights in his number "88" racecar, attending classic car shows, watching NASCAR, listening to bluegrass, and country music.

Visitation on Thursday, June 17, 2021 from 6-8PM and an additional Visitation on Friday, June 18, 2021 from 10AM until Funeral Service at 11AM at Raymond Funeral Service Chapel, 5635 Washington Avenue, La Plata, Maryland 20646. Burial to follow at 12PM at Trinity Memorial Gardens, 3221 Mattawoman-Beantown Road, Waldorf, Maryland 20601.

Pallbearers will be his six grandchildren, Courtney, Aaron, Cody, Dakota, Colby, and Garrett. Alternative Pallbearers will be Tommy Raines and Carson Owens.

In lieu of flowers, memorial contributions in memory of Jerry may be made to Hospice of Charles County, 2505 Davis Road, Waldorf, Maryland 20603.