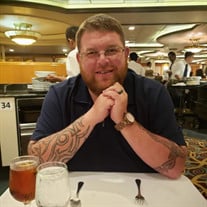 On May 30, 2021, Michael Ray Fowler Jr., known as Mike or Mikey, 40, of La Plata, MD gained his wings. Born on July 17, 1980. Mike is survived by his wife Shannon Fowler, his two sons Austin and Ryan Fowler, his parents Sharon and Michael Ray Fowler Sr. and his two brothers Daniel Fowler and Billy Fowler. He is predeceased by his beloved Maternal Grandmother Barbara Ann Lynn and Grandfather William Anderson Lynn and his Paternal Grandmother Joan Fowler and Grandfather Robert Fowler. He also leaves behind a host of long time loving friends and family.
Mike grew up in Morningside, MD where he was surrounded by family and friends. Taking part in Haunted Hayrides and other town events was something he loved doing. He graduated from Gwynn Park High School in Brandywine, MD. in 1998. Mike loved hockey and that love came through in his first job at Tucker Road Ice Rink. He played on the ice every chance he wasn't working. He later moved on to a lasting career of 15 years as a Backhoe Operator at Cedar Hill Cemetery in Suitland, MD. He recently moved on to Resurrection Cemetery in Clinton, Md. where he had just received a promotion to Journeyman. Mike's infectious personality made him many lasting friendships across the years.
In 2006, Mike Fowler and Amy Schlor welcomed their first son Austin Michael and then they were blessed with Ryan David in 2009.
As many friends and family know, Mike was a HUGE Washington Redskins fan but when it's hockey season you couldn't pull him away from a CAPS game.
Most know that Mike met Shannon through their mutual best friends, Tonya and Art Eckert. They met in 2017 and a whirlwind romance began. In May 2019 they bought a home and then were married the following October. They shared countless memories of road trips, concerts and fishing trips with his two boys. Mike also loved his yearly golf trips with Dad and summer pool parties with his Mom in their backyard.
We would like to thank you all for reaching out, sending food, calling and sending donations. The overwhelming support has made our hearts full and very grateful.