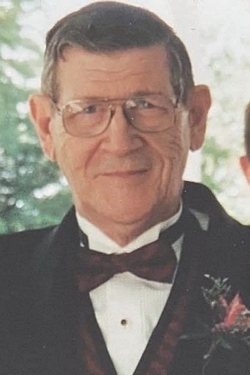 Blair Gerard Middleton, "Jerry", was born November 30, 1936 in Washington D.C. to T. Blair and Virginia Middleton. He Graduated from Priory, which is now known as St. Anselms Abbey, in 1954. He was drafted into the Army for two years and spent time in Germany and traveling throughout Europe during this time.

He held many different types of jobs in his life, including building counter tops, working at the National Security Agency, working at Philco, part of the Goddard Flight center, working for his father raising beef cows, working at Middleton and Meads, helping to run Middleton Landscaping and then Middleton Brother's Farm, specializing in commercial landscaping.

When he retired, he told his beloved wife Martha that they were moving to the beach. She wasn't taking any chances and had reservations and a list of possible houses within hours. They spent their retirement enjoying the town of Southern Shores, NC in a home they shared with their beloved bulldog Rachel, and then 2 much loved Golden Retrievers, Nugget and Charleigh. Their home was a warm, loving gathering place for their children, grandchildren and granddogs.

Two years after his wife Martha passed, Jerry moved to Southern Maryland to live with his daughter. There he was able to reconnect with many relatives and make new friends.

Jerry was incredibly smart, incredibly strong and incredibly tough. He was opinionated but so loving. He loved talking to people and teasing children good-naturedly. He loved his family and he was eternally devoted to his wife. He will be greatly missed.

Jerry is preceded in death by his parents, his younger brothers John Francis and Robert David and his son in law Patrick. He is eternally reunited with his beloved wife Martha. He is survived by his daughter Marti Lloyd, his son Blair Jr. (Leigh) his 3 granddaughters, Rena, Rachel and Riley, his sister Marianne, his sisters in law, Kristin and Donna, many nieces, nephews, cousins and dear friends.

There will be a Celebration of Life on Saturday, June 5, 2021, at St. Cecilia's Church, 47950 Mattapany Road, St. Mary's City, Md. 20686. The family will receive friends from 10:00 A.M. to 12:00 pm with a Memorial Service at 12:00 P.M. celebrated by Father Scott Woods and the family and interment will be at a later date in North Carolina. The family is asking for people to wear bright clothing.

There will be a circle of prayer held at Chicahauk Beach, Southern Shores on June 12, 2021 at 12:00 P.M. in N.C. for all living in the area or visiting the Outer Banks are welcome.

He will be greatly missed.

In lieu of flowers donations can be made in honor of Blair Middleton to Ridge Volunteer Rescue Squad, P.O. Box 456, Ridge, Md. 20680.

Condolences to the family may be made at www.brinsfieldfuneral.com

Arrangements by the Brinsfield Funeral Home, P.A.