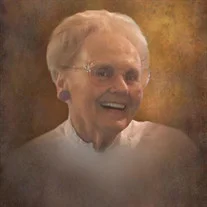 Kathleen Marie Lohman, age 96, of Waldorf, MD, passed away peacefully on 26 May 2021. Born 4 November 1924 in Washington, D.C., she was the eldest daughter of the late James A. Longmore and Estella E. Longmore (Connor). She attended St. Dominic's Catholic School and St. Cecilia's Academy, both in Washington, D.C.

Kathleen was preceded in death by her eldest son John Lohman III, and her sister Elizabeth Edwards. For 71 years she was the beloved wife of John Lohman, Jr. before his passing in 2017, and the loving mother of James B. (Susan) and Joseph A. (Josephine); grandmother to Lauren, Kristen, and Connor Lohman; step grandmother of five and step great grandmother of 11, along with numerous nieces and nephews and many friends.

She deeply loved her family and took great comfort in having them around.

Kathleen had a successful career with Sears and received numerous national awards for her professionalism and salesmanship. Kathleen was an avid genealogist and the "unofficial" family photographer. Her kindness and caring to all who knew her will always be remembered. She was a much loved and respected member of the Waldorf Ladies Auxiliary to the Maryland State Fireman's Association for over 50 years and proudly served as its president in 1983.

Visitation on Monday, June 7, 2021 from 11AM until Mass of Christian Burial at 12PM at Our Lady Help of Christians Catholic Church, 100 Village Street, Waldorf, Maryland 20602 followed by a burial at St. Peter's Catholic Church Cemetery, 3320 St. Peter's Drive, Waldorf, MD 20601.

In lieu of flowers, please make donations to the Auxiliary to the Waldorf VFD, 3245 Old Washington Road, Waldorf, MD 20602.

The family of Kathleen Lohman wishes to extend our thanks to Ovalstone Comfort Care and Heartland Hospice.