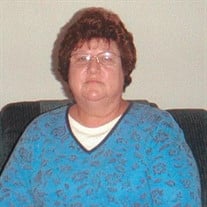 Grace Alice Morrill, age 75 of La Plata, Maryland, died May 13, 2021.

Grace was a life-long Charles County resident who grew up chopping tobacco and grew to become the matriarch of the Boarman family. She started a career at Andrews AFB where she met her husband of over 40 years and was a caring mother to both of her step-sons and three daughters who gave her six beautiful grandchildren and two great grandchildren. She loved cooking, country music, and sitting on her front porch watching the hummingbirds, deer, and turkeys in her yard. She created many friendships over her long life and will be greatly missed by more people than she could ever imagine.

She was the daughter of James Wise Boarman, Sr. and Mary Muscolino Boarman. In addition to her parents, she was predeceased by her step-son, Kevin Morrill and her sister, Mary Jane Boarman.

She is survived by her husband, John Morrill; her step-son, Scott Morrill; her daughters, Kimberly Jo Smith, Linda Michelle Maria Baldwin, and Tracy Renee Morrill; her brothers, Charles Boarman, James Boarman, and David Boarman; her sister, Laura Bresher; her grandchildren, Amanda Vasquez, Ronnie Hester, Gabriella Baldwin, Olivia Baldwin, Grace Sacks, and Sophia Sacks; and her great grandchildren, Mia Vasquez and Jackson Vasquez.

Visitation on Thursday, May 27, 2021 from 9:30AM until time of Funeral Service at 11AM at Grace Lutheran Church, 1200 Charles Street, La Plata, Maryland 20646. Interment to follow at Maryland Veterans Cemetery, 11301 Crain Highway, Cheltenham, Maryland 20623.

Memorial contributions may be sent to the American Diabetes Association, PO Box 15829, Arlington, Virginia 22215.

Face masks and required for all services and social distancing is to be observed with limited attendance.