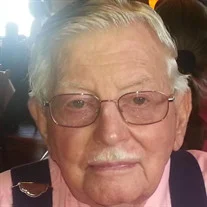 Paul Junior Miller, 95, also known as Paul Miller Jr., of Waldorf, Maryland, passed away on May 17, 2021 at the Genesis Franklin Woods Center, Rosedale, Maryland.

Born Paul Junior Miller on October 15, 1925 in Wyomissing, PA in 1925 to Paul and Carrie (Bensing) Miller. Paul had four siblings. Marvin, Carmen, Gerald, and Carroll. He lived in Schaefferstown, PA until approximately 1938 when his parents bought a small farm in Hamburg, PA region.

After High School Paul Jr had various jobs in including one where he would straighten bent needles at a textile mill; he was not eligible for military service due to medical issues.
In 1946, at age 21, Paul married Mildred Mable Engle formerly of Shoemakersville, Pennsylvania.

Paul Jr then went to Eastern Bible Institute in Green Lane, PA for the Assembly of God Church from 1950 to 1954. He served as a pastor at a few churches until the late 1950s.
Also, in1954, he and Mildred adopted their daughter Donna Marie, who later married Robert Alan Bryan.

He pastored for a few years. In the mid-1950's he also worked on-site maintenance for an apartment complex in Allentown, PA

Then in the early 1960s Paul Jr began his career with General Electric working on industrial transformers and power poles. He worked that job until retirement in the late 1980s.
In 1962 he moved into his first house in Bethlehem, PA on 6th Ave. He lived there with Mildred until 2003. After a health issue in 2003, Paul and Mildred shared a home in Waldorf, MD with his daughter, Donna and son-in-law, Robert Alan Bryan. Mildred and Donna died in 2012.

Paul's hobbies were fixing anything in the home; reading the bible, and doing puzzles.

Paul was a member of the Calvary Gospel Church in Waldorf, MD.

Paul is survived by his sister, Carmen Gunder, of Blairsville, PA and his son-in-law, Robert Alan.

A visitation will be held on Tuesday, May 25, 2021 from 3PM until time of service at 5PM at the Raymond Funeral Service, P.A., 5635 Washington Avenue, La Plata, Maryland 20646.
Service and interment will be held at Cedar Hill Memorial Park in Allentown, Pennsylvania.