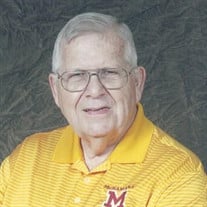 Charles Wendell "Charlie" Meyers, 84, of Waldorf, MD, passed away on May 18, 2021 in Waldorf, MD. He was born on February 9, 1937 in Fenwick, WV to the late Harry D. Meyers and the late Bonnie Lee Jackson Meyers.

Charlie was a self-employed Commercial Flooring Contractor, with his own contracting business. He was a Veteran of the United States Army, having served on active duty during the Berlin Crisis. He was of the Catholic faith and a longtime parishioner of St. Peter's Catholic Church in Waldorf, MD. He was also a Member of the Elks Lodge #2421 in Waldorf, MD since the 1970's. Charlie loved listening to bluegrass music and was an avid reader of books. He also loved his dog, Max, dearly.

In addition to his parents, Charlie was preceded in death by his sister, Carol Sue Day.

Charlie is survived by his wife of 52 years, Mary Ann Topolski Meyers; daughter, Margaret Ann "Maggie" Arnold; and three grandsons, Erik Anthony Arnold, Travis Arnold and his fiancé Gabriela Barrera, and Brady Arnold and his fiancé Aaliyah Walker.

A Visitation will take place on Monday, May 24, 2021 from 9:00am until 10:30am at Raymond Funeral Chapel, 5635 Washington Avenue, La Plata, MD 20646. A Mass of Christian Burial will be held on Monday, May 24, 2021 at 11:00am at St. Peter's Catholic Church, 3320 St. Peter's Drive, Waldorf, MD 20601. Interment to follow in the church cemetery.

In lieu of flowers, memorial contributions in Charlie's memory are asked to the Humane Society of Charles County, P.O. Box 1015, Waldorf, MD 20604.