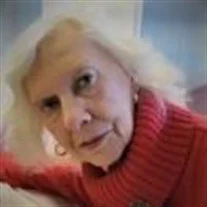 Marilyn Ann Flemens, age 88 of Prince Frederick, MD, passed away peacefully at her home on Friday, May 14, 2021 surrounded by family, friends, and home care companions. Marilyn was born on July 13, 1932 in Elmira, NY to J. Maxwell Evans and Helen (Sturdevant) Evans of Horseheads, NY. She was a devoted wife and mother who returned later in life to working outside the home, helping to support her family as a salesperson for The Hecht Company, a tax preparatory agent with H&R Block and a realtor with Nyman Realty and Long and Foster.

Marilyn was also a gifted visual artist. Her many skills included interior design and decorating, sewing and oil painting. Her art training included art studies at the University of Maryland. She was a member of the Southern Maryland Art League and she proudly displayed her paintings and other artistic achievements to visitors to her home. Most recently she enjoyed participating in studio art classes at the Southern Pines Senior Center in Lusby, MD.

Upon retirement she moved to Prince Frederick with her good friend and longtime companion Ernest "Andy" Anderson whom she aided during his time of need, becoming his devoted caregiver for over 20 years. She also brought with her her beloved cats: Bear, Coal, Fluffy, Inky and Trinket. Her final pet cat Izzy eventually followed and after his passing Marilyn was thrilled to be joined in life by her cherished Australian cattle dog named Huckleberry better known as Huck.

Marilyn is survived by 3 daughters, a son and their spouses: Michelle Eshelman and Brooke Freeman of Lewes, DE; Sharon M. and Richard Leech of Clarksburg, MD; Suzanne Flemens and William (Bill) Coons of Chicago, IL; and Kevin and Lori Flemens of Apollo Beach, FL; grandchildren: Krysten (Rick) Sneade, Justin Eshelman, Kimberly (Xavier)Watson, and Andrew (Holly) Mona II; Jason Storey; great grandchildren Caleb and Summer Storey and Lily, Andrew III and Audrey Mona along with her onetime spouse and father of her children—Kenneth C. Flemens. In addition to her parents, she was predeceased by her grandson Michael Leech, her granddaughter Tiffany (Leech) Storey, as well as her brothers Donald, Norman and James Evans and sisters Beverly Coon and Marlene Bischoff and dear friend and aforementioned Ernest F. "Andy" Anderson.

We the family honor and thank Sagepoint caregivers Elise, Tricia and Tanya for all of the loving care, compassion and dedication they so skillfully provided for our mother during her final months; Jackie, Melinda, Lisa and the other hospice workers from Calvert Hospice whose expertise helped make the end of life process less frightening and easier to bear; nurses Mia & Naia from Frederick Health and Rehabilitation for their assistance with communication while our mother was in quarantine; and our mother's very dear friends Helen and Chloe and especially Jan and Henry for the extraordinary amount of unconditional love, kindness, support and dedication they so openly bestowed on her. We hope you take solace in knowing how much Marilyn loved you both and how much we the family have grown to love you as well. You are honorary members of our family and you will always hold a prime spot in our hearts.

The family will receive friends at Lee Funeral Home Calvert, 8200 Jennifer Lane, Owings, MD 20736, on Thursday, May 20, 2021 from 11:00 AM – 12:00 PM where a Memorial Service will be held at 12:00 PM in the Funeral Home Chapel with Pastor Ralph Nevin officiating.

In lieu of flowers, memorial contributions may be made in Marilyn's name to : the Linda L Kelley Animal Shelter, 5055 Hallowing Point Rd, Prince Frederick, MD 20678 or Calvert Hospice, P O Box 838, Prince Frederick, MD 20678.

Masks and social distancing still apply until further notice.