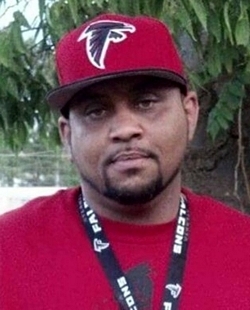 James Kelly Butler, 44, was born on January 8, 1977, in Germany, to Joseph and Bridget Butler. James was the older of their two sons. James passed away on May 6, 2021 at his home in Richmond, Virginia.

As a child of an Army family, James achieved his childhood education in various schools, however he graduated from Great Mills High School in Great Mills, Maryland in 1995. Upon graduating, James held a number of Chef and Cook positions until July 2002, when he joined the United States Army as a Power Generation Equipment Specialist. Throughout his military career, he received multiple medals for his service to his country, until June 2012 when he received an honorable discharge. Although James took pride in his service in the United States Army, he had a passion for cooking and singing. He also loved to play jokes on his family and friends, and was a faithful Atlanta Falcons fan.

James will be deeply missed by all who knew him. He leaves to cherish his memory: his loving children, James, Janha, Kedrick, and JaAces; mother, Bridget; father, Joseph; brother, Tyron Sr.; godson and nephew, Tyron Jr.; niece, TyShonna; nephew, Tylante; great niece, Jalen; godchildren Justyce and Collin Taylor; and many aunts, uncles, cousins, and extended family.

He is preceded in death by his grandparents, Frances Butler, Joseph C. Butler, Catherine Regan, and James McAulay.

Family and friends will unite on Friday, May 21, 2021 from 10:00 am until time of service at 11:00 am at Briscoe-Tonic Funeral Home at 38576 Brett Way, Mechanicsville, Maryland 20659. Interment will follow at Maryland Veterans Cemetery, Cheltenham, Maryland.