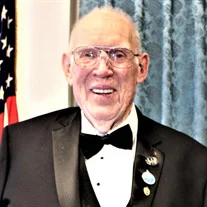 William D. Hines "Bill", 82 of Dunkirk, MD passed away on Saturday, May 8, 2021. He was born and raised in Aliquippa, PA to the late William E. and Florence B. Hines. He was preceded in death by his son, Clark W. and four brothers and sisters: Samuel, Edwin, Marion and Flora Bell. Bill moved his family to Maryland in the early 1960's where he went to work for Western Electric.

He is survived by his wife of 61 years, Janet G. Hines of Dunkirk, MD and his daughter, Gale L. Hines of Chesapeake Beach, MD. Also survived by his sister, Irma Kotun of Aliquippa, PA as well as many nieces, nephews and cousins.

Bill was a member and Past Worshipful Master of Patuxent Lodge #218 and Prince Frederick Lodge #142. He also was a member of the Almas Shrine and Scottish Rite of Washington, D.C. Bill was a member of Smithville United Methodist Church in Dunkirk, MD.

The family will receive friends at Lee Funeral Home Calvert, 8200 Jennifer Lane, Owings, MD 20736 on Thursday, May 13, 2021 from 4:00 PM – 7:00 PM. Rose Croix at 6:30 PM and Blue Lodge at 6:45 PM. A Funeral Service will be held at 7:00 PM in the Funeral Home Chapel. A Graveside Service will be held at Southern Memorial Gardens Cemetery 10155 Ward Road, Dunkirk, MD 20754 on Friday, May 14, 2021 at 11:00 AM.

In lieu of flowers Memorial Contributions may be made to the Almas Shrine Transportation Fund, 1315 K Street, NW, Washington, D.C. 20005 and/or The Scottish Rite Center for Childhood Language Disorders, 2800 16th Street, NW Washington, D.C. 20009.