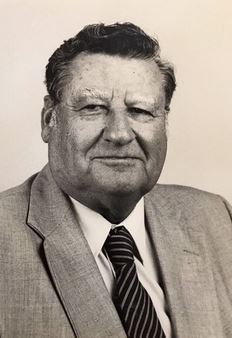 On May 5, 2021 William Russell "Russ" Cullins, Jr., 91, of Clements, MD passed away peacefully at his home with his loving family at his side.

He was born on March 30, 1930 in Dynard, MD to the late William Russell Cullins, Sr. and Margaret Hayden Cullins. Russ was raised on Mount Chance Farm in Clements MD learning the craft of farming from his forefathers and developing a special love for the land. He was a graduate of St. Mary's Academy in Leonardtown.

On October 24, 1953 he married his beloved wife, Arlene Candela Cullins. Together they celebrated over 60 wonderful years of marriage before her passing in January 2014. He and Arlene built their home on Mt. Chance Farm where they raised their family of 8 children. After the passing of his father in 1962, Russ assumed responsibility for Mt. Chance and he was extremely proud of its designation as a Maryland Century Farm. He was also the owner & operator of Russ Cullins Lime Service for many years where he made connections and friendships with the farming community across Southern Maryland.

Russ was deeply committed to the community and he was a lifetime member of Sacred Heart Catholic Church. A longtime member of Southern Maryland Farm Bureau, and Charter Member and Past President of the Seventh District Optimist Club. He served for many years as a Judge of the Orphans Court for St. Mary's County.

Russ was well known throughout St. Mary's County and had a deep love for the people, the culture, and the traditions of Southern Maryland. He enjoyed being with people and attending events and gatherings where he shared a laugh and a story. He will be fondly remembered for many things but most importantly his love and admiration for his family and farm.

Russ is survived by his children: Catherine Zuza (Jack) of Pittsburgh, PA, William "Bill" Cullins (Sharon) of Clements, MD, David Cullins (Anne Mary) of Clements, MD, Margaret "Betsey" Roy of Bar Mills, ME, Janet "Maureen" LaMoria (Jerry) of Portland, ME, John "Tim" Cullins of Clements, MD, Anne Davis (Wayne) of Leonardtown, MD, Christopher Cullins (Lynn) of Mechanicsville, MD; 22 grandchildren, 19 great grandchildren; and many extended family and friends.

In addition to his parents and wife, Russ is also preceded in death by his sisters: Elizabeth "Betty" Cullins, Louise Russell, and Dorothy "Dot" Cheseldine; and his grandson, Patrick Zuza.

Family will receive friends on Wednesday, May 12, 2021 from 5:00 to 8:00 p.m., with a Prayer Service at 7:00 pm. And Optimist Prayers at 7:15 p.m., at Brinsfield Funeral Home, P.A., 22955 Hollywood Road, Leonardtown, MD 20650. A Private Mass of Christian Burial will be celebrated by Reverend Stephen Wyble. Interment will be private.

Serving as pallbearers will be: His grandchildren.

Memorial contributions may be made to Sacred Heart Church Guardian Challenge, 23080 Maddox Road, Bushwood, MD 20618.

Condolences to the family may be made at www.brinsfieldfuneral.com.

Arrangements by the Brinsfield Funeral Home, P.A., Leonardtown, MD.