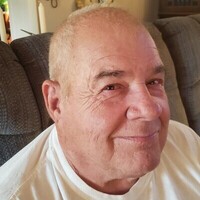 GSCS(SW) John Clarence "J.C." Wiegman, USN (Ret.), 72, of Piney Point, MD passed away May 5, 2021 at his home with his loving family at his side.

He was born on June 11, 1948, in Bethesda, MD to the late John Clarence Wiegman, Sr. and Myrtle Elizabeth Bradburn.

His education began at Piney Point Elementary school followed by Leonard Hall Junior Naval Academy where he participated in President Kennedy's inaugural parade, completing his studies at Ryken Catholic High School, class of 1966. In 1966 J.C. proudly enlisted in the United States Navy where he honorably served his country until his retirement in 1987 as a Gas Turbine Mechanical Maintenance Senior Chief. During his service he travelled the world extensively, with one of his favorite tours being in Chile. He earned many medals and ribbons, including the National Defense Service Medal, Navy Achievement Medals, Meritorious Unit Commendation, Sea Service Deployment Ribbons, Good Conduct Awards and Navy Commendation Medals. He then had a second career at the Paul Hall Center in Piney Point, MD, where he retired as the Director of Vocation and Training after 26 years in 2015. On December 4, 1971, he married his beloved wife, Carole Jean Wiegman at St. Mary's Catholic Church in Landover, Maryland. Together, they celebrated over 49 wonderful years of marriage.

He loved spending time at his waterfront property in Piney Point with his family. He coached all three of his children through Little League baseball with his knowledge and love for the game. He was also an avid sport memorabilia collector and Washington Redskin football fan, being a season ticket holder for over 20 years with a special parking spot with his name on it. He looked forward to Sunday family gatherings with homecooked meals and lengthy games of Pitch. He was a dedicated and loving husband, father, grandfather, brother and friend to many.

In addition to his beloved wife, J.C. is also survived by his children: John Clarence Wiegman III (Elaine) of Tall Timbers, MD, Brian Joseph Wiegman, Sr. of Leonardtown, MD, and Kenneth Thomas Wiegman (Jennifer) of Ottawa, IL; his sister, Janice Brindley of Virginia Beach, VA; nine grandchildren: John Clarence "Jay" Wiegman, IV, Sara Wiegman, Daniel Wiegman, Brian Joseph Wiegman, Jr., Jackson Alexander Wiegman, Emme Lynn Wiegman, Margaret Jean "Maggie" Wiegman, Charlotte Joy Wiegman, and Jude Thomas Wiegman; and many extended family and friends. He is preceded in death by his parents.

Family will receive friends on Tuesday, May 18, 2021 from 11:00 a.m. to 12:00 p.m., with a Funeral Service celebrated by Reverend Paul Nguyen at 12:00 p.m., at Brinsfield Funeral Home, P.A., 22955 Hollywood Road, Leonardtown, MD 20650. Interment will follow at St. George's Catholic Church Cemetery in Valley Lee, MD.

Memorial contributions may be made to Valley Lee Rescue Squad, P.O. Box 1, Valley Lee, MD 20692.

Condolences to the family may be made at www.brinsfieldfuneral.com.

Arrangements by the Brinsfield Funeral Home, P.A., Leonardtown, MD.