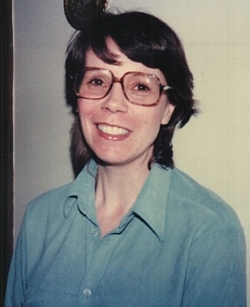 Barbara Vivian Kaplin, 74, born July 1, 1946, originally of Bushey, Hartfordshire, England passed away on the morning of April 17th, 2021 at her home in Waldorf, Md.; with her husband, Edward Kaplin of 38 years by her side.

Barbara "Babs" and Ed met on June 12th, 1981 at 7:30PM London time at a party where their eyes met, and hearts touched; they fell in love never to be apart again. They were married on August 25th, 1982 in Uxbridge, England.

Barbara always had a smile and a kind personality; was genuine and always put others before herself. Barbara's memories will be Kindness, caring, and a loving person that will be cherished for a long time to come. Barbara enjoyed watching the old western TV shows; listening to Country Music and her son Christopher's songs. Barbara was a life-long Christian.

Barbara is survived by her husband Edward and their son Andrew, as well as her son's David Thomas and his wife Clara, Christopher Thomas and his wife Polly and Barbara's granddaughter Gwen, as well as several nieces and nephews. As a special note; thank you to Sister-in-Law Frances Kaplin who provided years of care giving.

Family will receive Friends on Thursday, April 22, 2021 from 11am-12pm with a Celebration of Life to follow at 12PM at Huntt Funeral Home located at 3035 Old Washington Road Waldorf, Md. 20601.

Memorial Contributions may be made to charity of your choice.