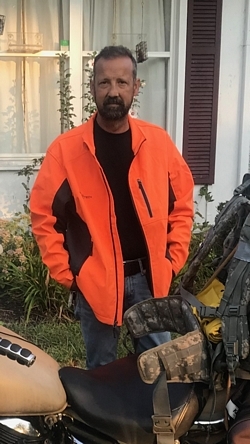 Dewayne Edward Mowry, 50, of Columbia, SC, passed away at home on Wednesday, March 24, 2021. Dewayne was born on January 28, 1971, to the late Richard Lee Mowry, Sr., and Jenann Polliard Mowry, in La Plata, Maryland.

In his life, Dewayne was most proud of his little girl, Cassidie, and cherished every moment with her. Pictures of her brightened his heart and brought a smile to his face.

Dewayne spent many years serving his community with the fire department, including the Benedict, Waldorf, and Hughesville Volunteer Fire Departments. Dewayne was one of those people who ran toward the fire and not away. He spoke of his experiences often and with contentment. Those were some of the best years of his short life.

In addition to his work with the fire departments, hospitals, and ambulance services, he was a volunteer member of both the Maryland Defense Force and the DC Defense Force. As part of MDDC, Dewayne provided emergency medical services and a helping hand during many disasters, including Hurricane Katrina and the La Plata tornado. He travelled with his unit to Bosnia to provide local medical aid. During his ambulance days, Dewayne had the occasion to drive in the President's motorcade, a rare opportunity not many knew.

Dewayne graduated from Lincoln Technical Institute in Indianapolis and reveled in working on cars and motorcycles. He enjoyed many years at the Budds Creek MotoCross track in Mechanicsville, Maryland. He was a starter for local races and maintained the track, ensuring it was safe and ready. He loved grass roots racing.

Dewayne never met a stranger and would talk to everyone. He loved to share a story. He was described by friends as an entrepreneur who was always looking for a way to turn an idea into money.

Dewayne was predeceased by his father, Richard Lee Mowry, Sr.

Dewayne is survived by his daughter, Cassidie Mowry; mother,Jenann Polliard Mowry; stepmother, Margaret "Peggy" Mowry; brothers: Richard Mowry Jr.; Larry Mowry (Dara); Robert Owens Jr. (Michelle); Thomas Groht Jr. (Nicole); Daniel Groht (Jennifer); Steven Groht; sister, Melody Williams (Jimmy); and many nieces, nephews and friends.

Family and friends are invited to celebrate Dewayne's life on the afternoon of Saturday, June 12, at the Mechanicsville Moose, in Southern Maryland, where he grew up.