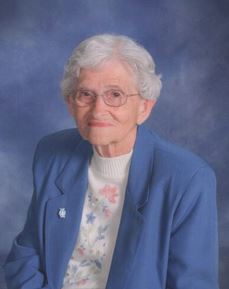 Frances Thelma Raley, was a compassionate and loving wife, mother, grandmother, sister, and friend. She passed away peacefully on May 2, 2021 at age 94.

She was born to Francis Guy Hill and Myrtle Louise Thompson on June 10, 1926. Soon after graduating from Margaret Brent high school, Thelma met her husband, Harry C. Raley and married in 1946 at the Holy Face church. Together, they shared over 66 years of marriage and 5 children.

Thelma was happiest sharing in laughter with family, friends, and community. She drove school bus, 77E for 20 years where she touched the lives of many children with her kindness. She was passionate about baking and decorating cakes for many celebrations, and her incredible designs were sought after by many. Thelma and her husband, Harry, enjoyed many travels around the world together visiting family and creating lasting memories.

Spending time with family brought great joy to Thelma. She loved an evening playing cards with loved ones. Thelma enjoyed spending time in the garden, teaching her children and grandchildren how to garden, and grew produce to share with her friends and family. Many evenings, her children and grandchildren would be gathered around the dinner table, enjoying her delicious meals and listening to stories of her travels. Most weekends were spent volunteering at Holy Face church as a Eucharistic Minister and Lector and some afternoons at the local food pantry. Thelma served as a Lady of Charity for many years preparing meals for funeral receptions, making birthday cakes for senior citizens at BINGO and ironing alter linens.

She had an uncanny ability to bring people together. Her warmth and generous personality was contagious, and will always be remembered by those who met her. She had a calmness about her that always welcomed anyone in need of advice or a helping hand. Thelma was a pillar of strength and love in both her family and community. She set an example to all of how to keep a happy life and support others.

Thelma is survived by her children: David Raley (Marcia) of Ridge, MD, Diane Raley Milgrim of Leonardtown, MD, Elaine Raley Jessen (Andy) of St. Augustine, FL and John Raley (Jessica) of Leonardtown, MD;10 grandchildren: Denise Raley, David Raley Jr., Julie Anderson, Angela Milgrim, Justin Russell, Meagan Russell, Shannon Russell, Savannah Redman, Madison Redman, and Killian Redman;5 great grandchildren: Amanda, Alexis, Chase, Isabella and Ozzy; 1 great-great grandson: Erik.

In addition to her parents and husband she is also preceded in death by her son Mark Allen Raley and her siblings: Paul Zack Hill, Basil Guy Hill and James Walter Hill.

Family will receive friends on Wednesday, May 5, 2021 from 10:00 a.m. to 11:00 a.m. at Brinsfield Funeral Home, P.A., 22955 Hollywood Road, Leonardtown, MD 20650. A Mass of Christian Burial will be celebrated by Reverend Jeroslaw Gamrot at 11:30 a.m. at Holy Face Catholic Church, 20408 Point Lookout Road, Great Mills, MD 20634. Interment will follow in the church cemetery.

Serving as pallbearers will be: Justin Russell, Chase Anderson, DJ Raley, Killian Redman, Jeff Mayor and Danny Jennings.

Memorial contributions may be made to Hospice of St. Mary's, P.O. Box 625, Leonardtown, MD 20650 and Holy Face Catholic Church, 20408 Point Lookout Road, Great Mills, MD 20634.

Condolences to the family may be made at www.brinsfieldfuneral.com

Arrangements by the Brinsfield Funeral Home, P.A., Leonardtown, MD.