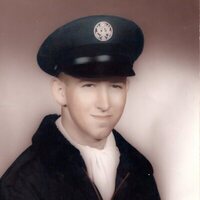 Ernest Roy King, 74, of Mechanicsville, Maryland passed away peacefully on Sunday, May 2, 2021 after a courageous battle with cancer at MedStar St. Mary's Hospital, Leonardtown, MD. He was born on September 15, 1946 in Altheimer, AR to the late, E. Leon King, and T. Lois Barker.

Roy entered the United States Air Force in July, 1964 and served his country and family proudly. He was honorably discharged in July, 1972 and stayed at his last duty station, in Maryland. Roy was blessed to find the love of his life, Shirley and married her in 1973.

He was a dedicated man who worked tirelessly to support his family. Roy worked for Nortel Networks for over 25 years of service before his retirement. Once he retired from his day-to-day job, he decided to work for the St. Mary's County Public School system for 6 years. He felt education was important and having graduated from the College of Southern Maryland with his Associate's degree he wanted to inspire others to fulfill their own aspirations.

A great man with a deep dedication to his family, Roy loved spending time surrounded by his loved ones. He spent his life helping others and working with organizations that supported his community. He was the president of the Accokeek Rec. Council, P.T.A. President, a member of the American Legion of Mayo for over 42 years, in the Legion Color Guard for 15 years and Loyal Order of Moose for 20 years. When he wasn't taking care of others, Roy enjoyed tinkering around on his own projects and proving he was the jack-of-all trades. If it was broken, he could fix it.

Roy was a pillar of the community, a proud American but most importantly a family man. He was a proud husband, father, grandfather, Godfather and friend. The memories Roy left behind will carry you through the hard days and his laughter and stories will make you smile through sorrow. His legacy will be carried on through many generations.

Roy is survived by his beloved wife, Shirley King of Mechanicsville, MD; daughters, Brandi M. King (Todd Lentner) of Hollywood, Maryland and Christi Montgomery of LaPlata, MD; granddaughter, Michalyn; God-son, Robert Harrison, Jr.; grand-dog Aldo and many extended family and friends. Roy is predeceased by his parents, and siblings, Dale King, Roger King and Earl King.

The family will receive friends for Roy's Life Celebration on Thursday, May 6, 2021 from 5:00 p.m. until 8:00 p.m. with a Memorial Service at 7:00 p.m. officiated by Deacon Bill Kyte from Immaculate Conception Catholic Church. Interment will be private.

Condolences to the family may be made at www.brinsfieldfuneral.com

All arrangements have been made at Brinsfield Funeral Home & Crematory, P.A., Charlotte Hall, MD.