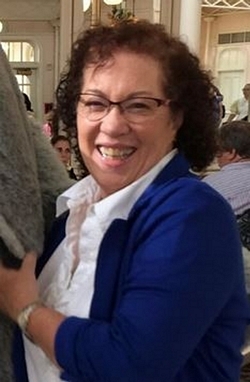 Barbara Marie Dudziec, 64 of California, Md. passed away on April 28, 2021 at home with her husband by her side.

Barbara Dudziec was born in Bronx, New York, on May 20, 1956. She was one of five children born to Gilbert and Delores Polanco (Conway).

Barbara, while attending Bronx High School of Science, worked with her mother at a day care center and working with children would always be her favorite vocation. She did have a career in Wall Street starting in the mailroom and working her way up to be a trader. Barbara left the stress of Wall Street to focus on raising her two daughters, Christine and Allyson.

Arriving in Southern Maryland Barbara earned her Associate Degree in Early Childhood Education from the College of Southern Maryland and was a member of Phi Theta Kappa. Barbara joined the Head Start Program as a teacher at Holland Forest and worked her way up to manager of the Jarboe Head Start Center - the largest in Southern Maryland. After retiring from Head Start Barbara volunteered at Care Net.

Barbara enjoyed going to Wine Festivals and various wineries, and loved going on cruises to the Caribbean with her family. She was very creative and loved to craft, making beautiful scrapbooks and cards for her family and friends. She was also a talented cook; one of her specialties was rice and beans. As an avid reader, she was often found enjoying mystery novels, but when not reading she enjoyed attending musicals and cheering on her favorite football team the Philadelphia Eagles.

She is survived by her husband, David, her children, Christine Flexer (Matthew) of Bear, DE, Allyson Hyde (Ryan) of Newark, DE, her step-children, Aleksander Dudziec of Courtland Manor, NY and Andrew Dudziec of Troy, NY, her siblings, Lorie Demarest of Woodstock, NY, James Polanco (Sandra) of Fort Worth, TX, Patty Wilcox (Kevin) of Reston, VA, and Gilbert Polanco, Jr. (Lillian) of Cape Coral, FL, and three grandchildren, Kara Flexer, Zoe Flexer, and Joseph Dudziec. She was preceded in death by her parents.

The family will receive friends on Thursday, May 6, 2021 from 5:00 to 8:00 p.m. with a Prayer Service at 7:00 p.m., at Brinsfield Funeral Home, 22955 Hollywood Road, Leonardtown, Md. 20650. A Mass of Christian Burial will be celebrated by Reverend Raymond Schmidt and Reverend John Nguyen on Friday, May 7, 2021 at 10:00 a.m. at Our Lady's Medley's Neck, 41410 Medley's Neck Road, Leonardtown, Md. 20650. Interment will follow in the church cemetery.

In lieu of flowers, memorial contributions may be made to Care Net Pregnancy Center of Southern Maryland. (https://friendsofcarenetsomd.org/ )

Condolences to the family may be made at www.brinsfieldfuneral.com.

Arrangements by the Brinsfield Funeral Homes, P.A.