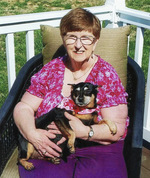 Doris Elaine (Higgs) Dearstine, 72, of Hollywood, MD peacefully passed to be with her Lord on April 23, 2021 at home surrounded by her children and beloved sister.

Born December 9, 1948 to the late James Roland and Mary Eva (Tippett) Higgs, the youngest of five siblings, Doris was a life long resident of St. Mary's County. She was a graduate of Chopticon HS, Medical Assisting Career Academy of Washington D.C. and attended Charles County Community College, now known as the College of Southern Maryland.

Her career track took her on multiple journeys from working as a medical assistant for Dr. John Fenwick in Leonardtown until the arrival of her first child, stopping to be a homemaker and fulltime mother to her children. Later, Doris turned her creative passions for flower arrangements into a small business, the owner of Doris' Flowers in Hollywood, MD. She then took those business skills and went to work for the Department of Defense working for the Comptroller's Office until retirement.

Her greatest passion was her family, a selfless caregiver to her mother, siblings, children and grand chaps. Doris put all others above herself, noting that in doing so, it brought her joy. She was a dutiful servant of her Lord, showing great compassion, empathy, and strength in seeing through promises made to family members fulfilled. Before her health began to decline, you could find her happily in the kitchen baking goodies with grand chaps, tending large pots of vegetable soup to feed armies, picking a pile of crabs or shucking an oyster pending the season, crocheting blankets for the next little one to come along, and reading her bible. She especially enjoyed her next to daily phone chat with her sister, Alberta, swapping tales and one-upping each other on anything and everything.

While Doris lavished care upon the humans in her life, it would be remiss to forget her faithful four-legged companion, Daisy, the first 'person' she wanted to see when she walked through the gates of heaven. Likely Doris had treats in her pocket at the ready.

Doris is survived by her four children Beverly (Donnie) Dearstine-Russell of Clements, MD, Timmy (Amy) Wathen of Charlotte Hall, MD, Jeffrey (Crystal) Dearstine of Hollywood, MD, and Valerie (Carlos Sr.) Cole of Hollywood. In addition to her children Doris was grandmother, more affectionately referred to as MawMaw, to 15 grandchildren and 6 great grandchildren. She is also survived by sister, M. Alberta O'Hara of Hollywood, MD.

Doris was predeceased by her parents and siblings, James Aloysius (Allie) Higgs, Maude Elizabeth Jones, and W. Wilson Higgs, all of Hollywood.

Family will receive visitors Friday, April 30th at the Mattingly-Gardner Funeral Home in Leonardtown, MD, from 9 am – 10 am with services at 10 am. Interment will be private.

In lieu of flowers, donations may be made to the Hollywood Rescue Squad 23469 Rescue Ln, Hollywood, MD 20636 or a charity of your choosing.