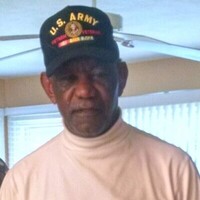 James Eugene Davis, 74 of Charlotte Hall, MD peacefully entered heavens glory on April 19, 2021 at Charlotte Hall Veterans Home in Charlotte Hall, MD. Born on November 13, 1946 in Washington, DC he was the second oldest of five brothers.

He graduated from Fairmont Heights High School, Capital Heights, MD in June, 1964. He worked various jobs before being drafted in the United States Army in March, 1966. He completed Boot Camp, Basic Combat Training and Specialized Infantry Mortar Man Training before beginning shipped directly to the war in Vietnam.

James was an Infantryman deeply involved in combat situations daily. His specialty was operating mortars and grenade launchers. He was appointed as Squad Leader, then shortly thereafter his Platoon Sergeant was killed in action and James received an on-the-spot Battlefield Promotion to Sergeant over others and elevated to Platoon Sergeant. James is truly our hero for his military service. Thankfully, James returned home safely without any physical injuries. Although, as anyone who has been in combat can tell you, there are memories that you can never forget. He was honorably discharged in March, 1968.

Upon his return, he became a U.S. Postal Letter Carrier and served twenty (20) years of dedicated service before his retirement. He was a simple man who enjoyed his two-piece Popeyes chicken meal, a glass of Chardonnay and a Swisher Sweet cigar. James was a wonderful brother, uncle, friend and above all son of God. If you knew him, you knew a true hero both physically and emotionally.

James' family will honor him with a Funeral Service on Monday, May 3, 2021 at 11:00 a.m. with his beloved cousin, Reverend L. Jerome Plummer Fowler of St. Paul Baptist Church in Capital Heights officiating at Brinsfield Funeral Home & Crematory, P.A., 30195 Three Notch Road, Charlotte Hall, MD 20622. A graveside service with Military Honors will be held at 1:00 p.m. at the Maryland Veterans Cemetery, 11301 Crain Highway, Cheltenham, MD 20623.

Condolences may be made at www.brinsfieldfuneral.com

All arrangements have been made at Brinsfield Funeral Home & Crematory, P.A., Charlotte Hall, MD.