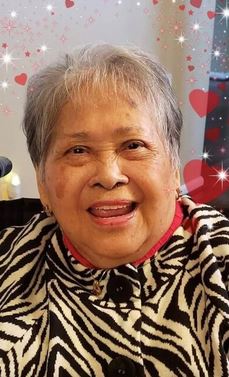 Margarita V. Puerto passed away on April 24th, 2021 at her home in Lexington Park, MD, surrounded by her loving family. She was born in the Province of Negross Occidental, Philippines on October 11th, 1932. She devoted her life raising her children. Before retiring, she worked as a care giver at a Child Development Center in Atsugi Japan where she was given numerous awards. During her free time, she enjoyed traveling, gardening, and watching her favorite shows on TV.

Margarita was a loving mother of 9 children. Allan Puerto (Nelia), Joel Puerto, Hazel Olson (Brian), Benhur Puerto, Nancy Mendoza (Romeo), Alex Puerto, Jesus Puerto Jr. (Aubrey), Roy Puerto (Marie), and Maria Luisa. Margarita has 24 grandchildren and 20 great-grandchildren whom she absolutely loved and adored. She was preceeded in death by her husband, Jesus Puerto, her parents, Benjamin Villanueva and Encarnacion Daulong. As well as her siblings Norma Guinez, Benjamin Villanueva Jr., Billy Villanueva her daughter Maria, and her sons Allan, Joel, and Alex Puerto.

Family will receive friends on April 30th, 2021 from 5:00 – 8:00 PM, with a service at 6:00 PM at Brinsfield Funeral Home, 22955 Hollywood Road, Leonardtown MD 20650. Interment will be held at a later date. Condolences to the family may be made at www.brinsfieldfuneral.com. Arrangements by the Brinsfield Funeral Home, P.A.