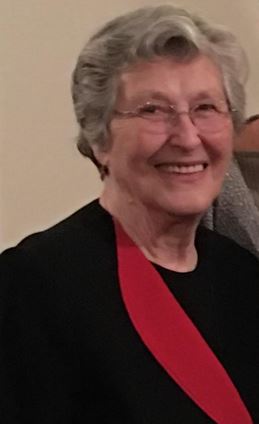 Iris Mae King, 87, a lifelong resident of Owings passed away April 22, 2021 at her home surrounded by family. She was born May 28, 1933 in Lower Marlboro to Hugh Stanley and Hazel Ethel (Marcellas) Jackson. Iris Mae was raised in Lower Marlboro and graduated from Calvert High School. She married William Benjamin "Buddy" King in 1954 and they lived in Owings. Iris Mae was employed as a secretary and bookkeeper for many people and companies including Harry Sturdivant, Judge Perry Bowen, Southern Maryland Oil, Anne Arundel County Public Schools. Dr. Kenneth Kates, DDS and Dr. Lucinda Keller, DDS. She also worked for the Owings Post Office delivering mail for several years and volunteered at the Calvert County Election Board as a polling house official before retiring at the age of 81. Iris Mae was a dedicated member of Mt. Harmony United Methodist Church where she sang in the choir, helped with church dinners, and was member of the Women's Society of Christian Service. Iris Mae had many interests and talents, including bowling and writing poetry. She was a senior bowling champion and was a member of the bowling team at the Senior Olympics in Towson. She enjoyed writing and won honorable mention for a poem she had published. She also enjoyed crossword puzzles, watching Jeopardy and Wheel of Fortune, playing Scrabble and card games, and spending time with her family, especially the love of her life Buddy, her children, grandchildren and great grandchildren.

Iris Mae is survived by her husband William B. "Buddy" King, Sr. of Owings, children William B. "Skipper" King, Jr. of Owings, Robert H. King and wife Patti of Prince Frederick, Scarlett Coblentz and husband Andy of Frederick, and Douglas Alan King and wife Amy of Owings. She is also survived by grandchildren, Leah Coblentz, Jonathan Coblentz and wife Jaqueline, Schylur, Vallen, and Brody King, and Heather and Bruce Lyons, great-grandchildren Rachael and Juniper Coblentz, sister Carolyn Ruth Jackson, brother Hugh Stanley Jackson Jr., and wife Fran, nephews Hugh S. Jackson III, John W. Jackson, and Jackson Moran and nieces Yvonne Scott and Melissa Catron.

Pallbearers will be John Ireland, Dennis Ireland, Darrell Ireland, Lee King, Lester King, and Schylur King.

The service will be livestreamed on Zoom via the following link https://us02web.zoom.us/j/4102570000.