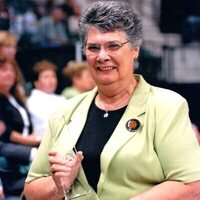 Wanda Sue Jameson, age 78, of Waldorf passed away on Monday, April 19, 2021. Born in Granite Falls, NC on January 7, 1943, she was the daughter of the late Harley and Connie Sue Bolick. She has lived in Southern Maryland since she was a young girl.

Wanda is survived by her husband of 59 years, Carl Jameson; daughter, Tracey O'Leary and her husband, Mark; and son, Todd Jameson and his wife, Maria; grandchildren, Michael Bruce (Tammy) and Christopher Bruce (Brandy); Devin, Cora and Clayton Jameson; Kristi O'Leary (Gary), Mark O'Leary, Jr. and several great-grandchildren.

She graduated from LaPlata High School in 1960. She was employed for 43 years by The United Association of Journeyman and Apprentices of Plumbers, Fitters, Welders and Services Techs at its headquarters in Washington, D.C. At the time of her retirement, she was honored by the UA with the prestigious Martin Durkin Award for her achievements and commitment to the success of the organization's National Instructors' Training program (for over 20 years!).

Wanda enjoyed spending time with Carl and their friends but most especially their family. She was an avid bowler who travelled around the country to participate in tournaments. She also loved to go dancing and playing cards. She was a dedicated volunteer for the Hughesville Baseball League, a softball enthusiast – known for being a skilled, competitive player and as the much-loved "Coach Wanda."

Wanda took pleasure in sharing her genealogical research and reminiscing about times in her life with loved ones. And she was equally passionate about creating new memories - whether it be time spent fishing, crabbing (teaching many how to pick the crabs clean the Southern MD way - the RIGHT way!), enjoying good food, or celebrating together – Wanda could be counted on as always being there for the fun but also for when anyone needed her. She was at her happiest when making others comfortable and happy.

The family will receive friends for a Memorial Gathering on Wednesday, April 28, 2021 from 6:00 p.m. to 8:00 p.m. at Brinsfield Funeral Home & Crematory, P.A., 30195 Three Notch Road, Charlotte Hall, MD 20622. Interment will be held privately.

Condolences may be made at www.brinsfieldfuneral.com

All arrangements have been made at Brinsfield Funeral Home & Crematory, P.A., Charlotte Hall, MD.