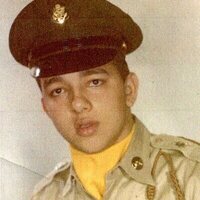 Harry James Wheeler, 73, of Bushwood, MD departed this life on Sunday, April 18, 2021, at his home. He was born on July 27, 1947 in Washington, DC to the late Lewis Lew Wheeler and the late Marguerite Mary Daras.

In December,1964, Harry enlisted in the United States Army. He was proud of his service to our great nation and received several medals for his commitment. Harry came back to marry the love of his life, Martha in July, 1966. Together they have celebrated over 54 years of marital bliss. They happily celebrated their forever love with a renewal ceremony for their 50th anniversary, at the same church they promised to love and honor each other over half a century before.

Harry was an honorable man, who lived his life to serve and protect. After his time in the Army, he became a Metropolitan Police Officer. His dedication to his community was a perfect example of the man him himself, choosing to live his life with purpose and make each day better for those around him. He was a member of both the Mechanicsville Jaycees and Knights of Columbus.

He lived a wonderful life with his beautiful wife by his side. An avid outdoorsman, he enjoyed spending a peaceful morning in his deer stand, quietly listening to the squirrel's bark and birds awaken for the day. He spent many wonderful days boating in the river until he lost his boat to Mother Natures wrath in the form of a tornado. He settled for spending his afternoons, sitting on the pier with a fishing rod in his hand. When forced indoors, he could play "Pogo" for hours on the computer or watching his favorite remodeling shows on the television. He would get great ideas and execute his own projects.

Along with this wife, Martha Louise Wheeler of Bushwood, MD, Harry is survived by his precious little puppies, Daisy and Ruthie. He is also survived by his siblings, Janice C. Stewart, of Northern Baltimore, MD and James Michael Wheeler of Bushwood, MD and many treasured nieces and nephews and extended family. Harry was preceded in death by his parents, Lewis and Marguerite Wheeler and siblings, Lewis L. Wheeler, Jr., Constance R. Meredino and John W. Wheeler.

Family will receive friends on Thursday, April 22, 2021 from 5:00 p.m. to 8:00 p.m. at Brinsfield Funeral Home & Crematory, P.A., 30195 Three Notch Road, Charlotte Hall, MD 20622, with Prayers being read by Deacon Bill Kyte from Immaculate Conception Church at 7:00 p.m. A Funeral Service will be held on Friday, April 23, 2021 at 10:00 at Holy Angels Catholic Church, 21340 Colton Point Road, Avenue, MD 20609 and officiated by Father Drew Royals from St. Joseph's Catholic Church. Interment will follow immediately in Trinity Memorial Gardens, 3221 Mattawoman Beantown Road, Waldorf, MD 20602.

Pall bearers will be Rob Weict, Christopher Wheeler, Bryan Wheeler, Michael Wheeler, Andy Hill, Mike Hill, Jim Wheeler, Jr. and Charles Burroughs, Jr.

In lieu of flowers the family would request donations be made to the Seventh District Volunteer Rescue Squad, 21530 Coltons Point Road, Avenue, MD 20609.

Condolences to the family may be made at www.brinsfieldfuneral.com



Arrangements by the Brinsfield Funeral Home & Crematory, P.A., Charlotte Hall, MD.