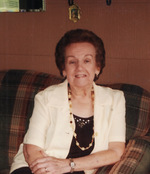 Margaret Louise Wheeler, 90, of Clements, MD, was very peacefully called home to be with the Lord on April 13, 2021 in the presence of her loving family. Born on December 19, 1930 at Nuns Oak in Medleys Neck, MD, she was the youngest daughter of the late James Ernest Johnson and Mary Rosalie Cooper Johnson.

Margaret completed her primary education at Our Lady's School in Medleys Neck and then studied at Great Mills High School. On April 29th, 1950, she married John Ernest Wheeler of Hurry, MD at St. Aloysius Church in Leonardtown. They made their home in Maddox before moving to Clements in 1957.

Margaret was a life-long resident of St. Mary's County, and had fond memories of growing up in a large farming family with her 12 siblings along the shores of Breton Bay. Once she married and started a family of her own, she primarily dedicated her life to being a homemaker. In her younger years though, she did work in several assistant school teaching roles in the county, and offered in-home daycare to a number of local families who became "extended family", and remained near and dear to her heart over the years. She considered her family her greatest accomplishment. She cherished living a simple and humble life with her Catholic faith as its centerpiece. Her "audience with Pope John Paul II" during a trip to the Vatican and a visit to London in the early 1980s were occasions of which she frequently spoke.

She is survived by her children: John Ernest Wheeler, Jr. (Jody Adelsperger) of Ellicott City, Joseph Francis Wheeler (Terri) of Clements, Joan Wheeler Hancock (Bill) of Loveville, and Timothy Allen Wheeler (Doug Bradshaw) of Eldersburg, MD; seven grandsons: Greg Wheeler (Phyllis), Brad Wheeler (Melanie), Justin Wheeler (Amanda), Wesley Hancock (Catherine Wheatley), Christian Wheeler, Ryan Hancock, and Daniel Wheeler; five great-grandchildren: Emma Wheeler, Tyler Wheeler, Peyton Wheeler, Hailey Hancock and Kylie Hancock; and 1 step great-grandchild: Aubree Lipshaw. She is also survived by her former daughter-in-law, Joanne Wheeler Scott of Eldersburg, MD, sisters-in-law: Mary Ellen Johnson, Ramona Johnson Harper, Delores Wheeler and Elaine Wheeler; many nieces, nephews, and their families, numerous friends, and her special spiritual counselor and friend, Carolyn Farrell.

In addition to her parents, Margaret was preceded in death by her beloved husband Ernest on February 2, 1998. She was also preceded in death by her daughter-in-law Catherine McConville-Wheeler and all of her siblings: Ernest Hilary Johnson, Mary Mildred Stone Adams, Joseph Melvin Johnson, James Manning Johnson, Lillian Maria Johnson, William Robert Johnson, Henrietta Maria Bean, Elsie Elizabeth Stone, Mary Rosalie Hayden, John Frederick Johnson, Charles Bertram Johnson, and Francis Benedict Johnson.

The family will receive friends at Mattingley-Gardiner Funeral Home in Leonardtown on Friday, April 23rd from 9:00 AM to 10:00 AM. The Mass of Christian Burial will be celebrated at Sacred Heart Church in Bushwood beginning at 10:30 AM with Fr. Stephen Wyble officiating. Interment will immediately follow in the church cemetery. Pallbearers will be: Brad Wheeler, Justin Wheeler, Wesley Hancock, Christian Wheeler, Daniel Wheeler, and Tyler Wheeler. Honorary pallbearers will be: Greg Wheeler, Ryan Hancock, Emma Wheeler, Jimmy Herbert, and Minette Clarke. At her request, Ryan Hancock will offer his vocal talents throughout his grandmother's life celebration.

Memorial contributions may be directed to Sacred Heart Cemetery Fund, C/O Sacred Heart Church, 23080 Maddox Road, Bushwood, MD 20618 and/or Seventh District Volunteer Rescue Squad, 21530 Colton Point Road, P.O. Box 7, Avenue, MD 20609.