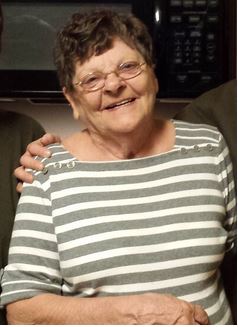 Jean Alberta Rhoades, 78, of Lexington Park, MD (formerly of Massachusetts) passed away peacefully on April 13, 2021 at MEDSTAR St Mary's Hospital in Leonardtown, MD.

Born in Winthrop MA, the beloved daughter of the late Ralph and Augusta (Smith) Ford, she was a 1962 graduate of Winthrop High School. She obtained her Home Health Aid certification and dedicated her life to the care of others. Prior to her retirement, Jean was employed by Asbury Solomons Assisted Living Retirement Community for 21 years as a Certified Nursing Assistant.

Jean was always a New Englandah at heart. She was a dedicated Mother and avid Boston sports fan who completely cherished every moment with her immediate and extended family. She also valued all of her friendships to which she formed throughout her life. She lovingly influenced her grandchildren on who the proper team was to root for (RedSawx, Bruins, Patriots, Celtics). She enjoyed BINGO, Crocheting, Lighthouses, Crabbing, The beach, Swimming, and Cooking Lasagna or eating Lobstah /Scallops/Clams. She loved watching Wheel of Fortune and Jeopardy, Victory Woods deer and birds with her friends from her "treehouse", and Breton Bay sunsets with family.

You will be forever with us MOM!

Jean is survived by her son, Timothy R. Mercier and daughter in law Carey E. Mercier of Leonardtown, MD; her grandchildren, Ryan Mercier of Accokeek, MD, Lindsay Mercier of Sutton, MA, Marissa Mercier of Port Tobacco, MD, and Brendan Mercier of California, MD; her great grandchild, Korie O'Brien; and many extended family and friends. In addition to her parents, Jean was preceded in death by her son, Steven E. Mercier and her sisters: Norma Kelly, Alice Waldrop, and Peggy Boudreau.

The family will receive friends on Friday, April 23, 2021 from 1:00 to 2:00 p.m at Brinsfield Funeral Home, 22955 Hollywood Road, Leonardtown, MD 20650, followed with a Prayer Service celebrated by Rev. Greg Sylar of St. Georges Episcopal Church at 2:00 p.m. A Graveside Service will be held by Father Walter Connelly of St. John's Episcopal Church on Friday, April 30, 2021 at 1:00 p.m. at Winthrop Cemetery in Winthrop, MA.

Condolences to the family may be made at www.brinsfieldfuneral.com.

Arrangements by the Brinsfield Funeral Home, P.A.