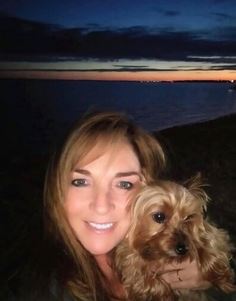 Dondi Duff Callaway, 53, of Callaway, MD passed away on April 11, 2021 at Hospice House of Charles County with her loving family at her side.

She was born in Kinston, NC on February 07, 1968 to Stanley Rayburn Duff of Pink Hill, NC and and Linda "Murphy" Howard of Mt. Olive, NC.

Dondi grew up in North Carolina and graduated in 1986 from South Lenoir High School in Deep Run, NC. She later attended college at East Carolina University graduating class of 2003 with her Bachelor's Degree in Business Education Information Technology (BSBE). In 2009, she moved to St. Mary's County and on February 13, 2010 married the love of her life, Greg Callaway, at Sunset Beach, NC. Together they celebrated over 11 wonderful years of marriage. Dondi worked hard and was dedicated to the success of Callaway Rentals, Inc. She loved spending time in Myrtle Beach visiting her family and friends, and taking walks along the beaches with her dog, Brody. She was adventurous and her outgoing spirit personality was infectious to all who met her. She never met a stranger. She loved riding her motorcycle joining her husband and friends for many fun adventures. She was strong by nature and was a breast cancer survivor. Family was always her priority and she loved spending her time with all of them.

In addition to her parents and beloved husband, Dondi is also survived by her children: Austin Ty Adams of Kinston, NC, James Brady Byrd of Faison, NC, Matthew Shawn Callaway of Callaway, MD, Lauren Leigh Callaway of Solomons, MD, Katlyn Callaway of Baltimore, MD and Jillian Callaway of Spring Hill, FL; her sister, Kristi Duff (Andres) of Mt. Olive, N.C.; and many extended family and friends. She is preceded in death by her sister, Jami Lynn Tyndall, her grandparents, Vance and Muriel Murphy, Grover and Dessie Duff, her in-laws, Lorraine and William Callaway; and her emotional support dog, Brody.

Family will receive friends on Wednesday, April 14, 2021 from 5:00 to 8:00 p.m., with a prayer service held at 7:00 p.m., at Brinsfield Funeral Home, P.A., 22955 Hollywood Road, Leonardtown, MD 20650.

On Friday, April 16, 2021, a Funeral Service will be celebrated at 6:00 p.m. with visitation following at Howard & Carter Funeral Home, 1608 West Vernon Avenue, Kinston, NC 28504. A Graveside Service will be held Saturday, April 17, 2021 at 11:00 a.m. at Duff Family Cemetery, Pink Hill, NC 28572. There will be a repass after the interment, located at Austin Ty Adams residence, 563 Central Avenue, Kinston, NC 28504.

Serving as pallbearers will be Timmy Murphy, Richie Heath, Chad Conway, Cliff Miller, Lee Tyndall and Israel Andres.

Memorial contributions may be made to the Down Syndrome Network of Onslow and Carteret Counties, P.O. Box 1264, Jacksonville, NC, 28541-1264.

Condolences may be made to the family at www.brinsfieldfuneral.com

Arrangements by the Brinsfield Funeral Home, P.A.