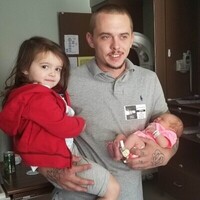 Joseph "Joey" Alex Peters, 29, of Hollywood, MD, passed away on April 9, 2021.

He was born on September 4, 1991 in Irvine, California to Joseph H. Peters and Jean Marie Smalling Peters.

Joseph worked as a Loan Officer inside the bank. He loved to play the sweetest pranks on people when he could. He enjoyed traveling the world seeing new places around the globe going to San Juan, Puerto Rico, Tortola and St. Thomas were some of his favorite places.. He loved dancing and playing basketball. He was an excellent cook, people especially like his chicken parmesan dish. He was an active member of the VFW Auxiliary Club. He had a magnetic personality that just radiated when he met people specially families with babies he loved to make them laugh. His family was important to him especially his wife Kris and two little girls Rayne and Skye.

He is survived by his wife Kristin Noelle Peters; his children, Rayne Marie Peters of Fredericksburg, VA and Skye Marie Peters of Chantilly, VA; his parents Joseph and Jean Peters, his siblings Eric Peters of Beaufort, SC and Morgan Peters of Great Mills, MD; his nieces Macy Anderson & Nivada Peters; his grandparents Jack and Toni Tizio of Marco Island, FL; Sybil Foster of Simsboro, LA and many extended family and friends. He is preceded in death by his grandfathers Charles Smalling & Joseph Peters.

Services will be private.

Condolences to the family may be made at www.brinsfieldfuneral.com.

Arrangements by the Brinsfield Funeral Home, P.A.