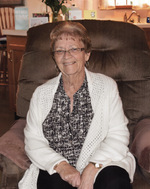 Rose Marie Bean, 80, of Callaway, Md., passed away on April 7, 2021 after a short, albeit
courageous battle with cancer.

Rose was born on November 12, 1940 to Mary Ruth Woodburn (deceased) and Kenneth
Aloysius Woodburn (deceased) in Pearson, Md. and graduated from St. Michael's High School
with her sister, Brenda L. Nash (deceased) in 1959.

Shortly after graduating high school, Rose married Edward A. "Ned" Bean at Holy Face Church
on April 22, 1961. This union was blessed with 3 children; Robert L. Bean Sr. (wife Susan E.
Bean) of Callaway; Susan E. Hall (Ernest F. Hall, deceased) of Lusby; and Deborah L. Bean of
Great Mills. Ned preceded her in death on February 18, 1992.

Rose was a beloved member of the Great Mills Trading Post family, where she greeted
customers for over 30 years as their "Office Manager". If you stop by Trading Post today,
chances are she'll be remembered as much more than that title.

With a strong devotion to God and an active member of the St. George Catholic Church, Rose
was known to many as a friend, mother and grandmother.

With 7 grandchildren and 13 great-grandchildren, she would argue that "grandmother" was the title that suited her best. If you weren't part of Rose's family, after a 30 second conversation with her; chances are you were now part of her family.

Her outgoing personality was contagious, and her smile provided enough light to see anyone
through the darkest of times.

A lifelong fan of Elvis Presley with his rendition of How Great Thou Art, these words couldn't
have come at a better time for Rose:
When Christ shall come with shout of acclamation
And take me home, what joy shall fill my heart.

Superheroes need rest too, and up there in Heaven, the Good Lord accepted Rose back home for her to rest peacefully with her parents, sister, husband and Elvis.

Through the memories she made and the people she positively impacted in the southern
Maryland community, Rose will live on for generations through the stories that are told of her
compassion, kindness and pure soul.

The family will receive friends on Wednesday April 14, 2021 from 5pm - 8pm in the
Mattingley-Gardiner Funeral Home Leonardtown, Md with prayers being recited at 7pm.
Due to COVID-19 guidelines, a private Mass of Christian Burial will be celebrated Thursday,
April 15, 2021 in St. George Catholic Church Valley Lee, Md. with Father Paul officiating.
Interment will follow at St. George Catholic Church Cemetery in Valley Lee, MD 20692. Pallbearers for Rose are Robert L. Bean, Jr. (RJ), Ronnie Alvey, Wayne Smith, Michael Smith, Jay Estep and Mike Nash. Honorary Pallbearers include her beloved family at great Mills Trading Post.
In Lieu of flowers, the family asks to please send donations to St. Mary's Hospice House or St. George Catholic Church.