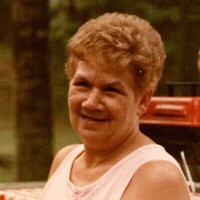 June Alice East, 88, of Bryantown, MD passed away on Wednesday, April 7, 2021 in LaPlata, Md.

June was born on December 28, 1932, in Crumpler, WV. She was the daughter of the late Homer Arnold Wheeler, Sr. and late Ruth Markly (Maxwell) Wheeler.

On March 23, 1957, she married the man of her dreams, Carl Dean East. Their devotion to love, family and unity gave them 64 years of wedded bliss. June was blessed to welcome two (2) children, Miranda "Randie" and Susan.

Whether you knew her as June, Mom or Gram you knew her dedication to her family. She'd always dreamed of being a wife, mother, grandmother and great-grandmother and never missed the opportunity to spend time with her family. She had so much love to share. She'd never met a stranger because you became her friend or family.

A vibrant spirit with a bright smile, June was the guiding light of her family. She was the one you went to for advice, a laugh or hug. She was a natural giver and taking care of family, especially Carl, was her greatest joy. June loved her dogs, cats and a beautiful spring day. She found happiness traveling and seeing all of God's glory. She and Carl took two separate trips cross country in their RV to see as much as the United States as possible. Although, her favorite spot was their condo in Daytona Beach, FL.

June was a kind, compassionate and wonderful person. She was loved by many and made a lasting impact on everyone's lives. June will be missed by many. As the flowers blossom and bird's sing their sweet song know June is watching you from above and wishing you blessings.

June is survived by her husband, Carl Dean East of Bryantown, MD; daughter, Susan East of Hughesville, MD; son-in-law, Stephen Potter of Hughesville, MD; five (5) grandchildren, Steven (Jessica), Allison (Tommy), Billy, Erica and Melissa; and eight (8) great-grandchildren, Caliegh, Bo, Brooke, Selah, Gunner, Jack, Colt, Jaycob and Lily; brother, Homer "Mickey" Arnold Wheeler, Jr. (Gloria) of Summersville, SC and many nieces and nephews. She was preceded in death by her daughter, Miranda "Randie" Potter; parents, Homer Sr. and Ruth Wheeler; siblings, Jackie Lusk, Janet Riege and brothers-in-law, Ernest Lusk and Delmar Riege.

The family invites friends to the interment of June on Tuesday, April 13, 2021 at 1:30 p.m. at Trinity Memorial Gardens, 3221 Mattawoman-Beantown Road, Waldorf, MD 20601. The family will hold a reception at the family farm immediately following.

Condolences to the family may be made at www.brinsfieldfuneral.com.

Arrangements by Brinsfield Funeral Home & Crematory, P.A.