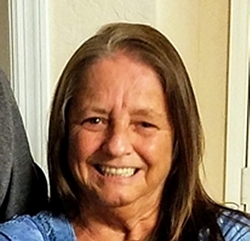 Susan Maria Messick (Scaggs), 66 of Palm Harbor, Florida, was granted her angel wings on February 27, 2021. Her final days were spent with the love of her life.

Born September 29, 1954 to the late Mary Louise and Willie Frank Scaggs. Sue was raised in District Heights, Md. and graduated from Suitland High School. After High School, she worked in the banking industry. She fell in love and married her husband, Ernest E. Messick "Ernie" and they were devoted to each other for over 39 years. She spent many years devoting her time to her children and being a homemaker. Once the kids were old enough, she worked in the mortgage industry until her retirement.

Sue is mostly remembered by her smile, laughter, and heart of gold. Everyone that knew her, loved and appreciated her. She loved to play cards with Dad, Mary, Bernard, Carroll, and Jane. She also loved to cook / bake, Black Friday shopping, dancing, and making memories with family and friends. She was always there for us physically, emotionally, and spiritually. She ALWAYS put her needs last before anyone. For example, she had to make sure that her children, grandchildren, and husband were taken care of before herself. We would repeatedly ask her to take time for herself, but she rarely did. We were always on her mind. She always asked, "what can I do to help?" She always ended each phone call or visit with "we love you bunches and hugs and kisses."

Susan was preceded in death by her parents Willie Frank and Mary Louise Scaggs; daughter-in-law Chrissy Kupfer Messick; Susan is survived by her loving husband, Ernest E. Messick; sons, Ernest Messick (Ed), Steven Messick, Christopher Messick, William Messick and Andrew Messick; sister Linda Scaggs, brother Timothy Scaggs, daughter-in laws Heather Messick and Samantha Messick, Grandchildren Kevin Messick, Kyle Messick, Noelle Messick, Caitlyn Messick, Anthony Messick, Avery Messick, Cassidy Messick, Carly Messick, and other family members.