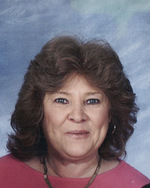 Anne Nellie Nelson,74, of Avenue, MD passed away on March 12, 2021 at her home. She was born on January 4, 1947 in Leonardtown, MD, and was the loving daughter of the late Mary Helen Pilkerton and Cleveland Randall "Diddy" Pilkerton. Anne was the loving wife of the late William Albert Nelson, Jr, "Porkey" whom she married on July 13, 1963 in Holy Angels Catholic Church Avenue, MD and who preceded her in death on December 22, 2004. Anne is survived by her children Terrie Nelson of Avenue, MD, Al Nelson of Colton's Point, MD, 6 grandchildren, 5 great grandchildren, and 1 great great grandchild. She is preceded in death by her son Keith Nelson, along with her siblings Robert Pilkerton "Bobby", and David Pilkerton. Anne graduated from Margaret Brent High School.

Anne was a lifelong St. Mary's County, MD resident and homemaker. She loved watching HGTV, eating crabs, and spending time with family and grandkids.

The family will receive friends on Thursday, March 18, 2021 from 9:00 AM to 10:00 AM in the Mattingley-Gardiner Funeral Home Leonardtown, MD, where a Funeral Service will be held at 10:00 AM with Father Stephen Wyble officiating. Interment will follow in Charles Memorial Gardens Leonardtown, MD. Serving as pallbearers will be Brandon Nelson, Travis Quade, Billy Pilkerton, Jay Owens, Bobby Quade, and Bobby Pilkerton.

Contributions may be made to Hospice of St. Mary's P.O. Box 625 Leonardtown, MD 20650.