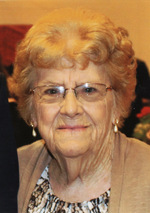 Cecilia Ann Guy, 86, of Hollywood, Md passed away on March 12, 2021 at her home surrounded by loved ones. Born on September 16th, 1934 in Leonardtown, MD she was the daughter of the late Clarence Columbus Adams and Catherine Gwinette Adams, nee Bussler.

Cecilia was a lifelong resident of St. Mary's County and was a graduate of St. Michael's High School in Ridge, MD.

She married Henry "Sonny" Augustine Guy on June 16th 1956 at Holy Face Church in Great Mills, MD. She is survived by her children Allan Guy (Ruth) of Greeneville, TN, Ronnie Guy (Diane) of Mechanicsville, MD, Donna Bussard (Brian) of Mechanicsville, MD and Mike Guy (Chrissy) of Hollywood, MD as well as 7 grandchildren and 5 great-grandchildren. She is also survived by her siblings Beulah Adams and Glenn Adams

She was preceded in death by her husband Sonny as well as her brothers Clarence Adams and Gary Adams.

Her primary career was a homemaker, but she held various jobs throughout her life, including stints as a C&P telephone operator, a caregiver, and a school bus aide.

She was an energetic, generous free spirit who always had family, friends, and connecting with new people as her focus. She valued maintaining existing friendships and family connections during her life while always looking for the opportunity to share a smile and a laugh with someone new and build her circle of friends. She was always on the go and very active throughout her life. If she wasn't in the house cooking or talking to you on the phone, you were likely to see her out shopping, biking, walking, dancing or doing yardwork.

Friends and family will be received from 9:00a.m.-10:00a.m. on Monday, March 22nd at the Mattingley-Gardiner Funeral Home in Leonardtown, MD followed by Mass at St. John's Church in Hollywood, MD from 10:30a.m.-11:30a.m.. Interment will immediately follow at Charles Memorial Gardens in Leonardtown, MD. Pallbearers will be Jerry Farr, Charles Guy, Bill Hancock, Julian Johnson, Eddie Thompson III, and Lenny Thompson.

Contributions may be made to St. John's Catholic Church, 43927 St. John's Road, Hollywood, MD 20636 or Hospice of St. Mary's, P.O. Box 625, Leonardtown, MD 20650.