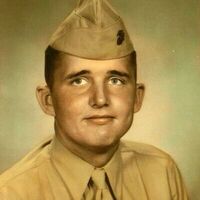 Master Gunnery Sergeant (Retired) Jerry James Gooch passed away unexpectedly on Thursday, March 18, 2021, at St. Mary's Hospital in Leonardtown, Maryland. He was born on September 9, 1949, in Camden, New Jersey, to James and Elizabeth Gooch, and was part of a large family. He grew up with his brothers Robert, Daniel, Donald, and John, and a sister Betty Sue. The family grew later to include mother Florence Diane, brothers Charles Goss, Gary Goss, and James.

He married Teresa Kay Banks on June 17, 1973, in Havelock, NC. They had two children, Jonathan June, born 1978, and Janet Mary, born 1983.

Jerry gave all that he could to his country, serving for 30 years in the United States Marine Corps, enlisting in February 1968. Jerry was sent to Parris Island, South Carolina, for boot camp, and spent several years in recruiting before working in aircraft maintenance, where he was later staffed at the Marine Corps Headquarters, and then the Pentagon, as the Aircraft Maintenance Chief for the Marine Corps. He retired from active duty service in March 1998. He later worked in support of the U.S. Navy and Marine Corps at D.P. Associates. Throughout his career, Jerry built countless lifelong friendships; he considered those friends to be family.

Jerry enjoyed many, many hobbies, including long-distance running, hiking the Appalachian trail, Phillies baseball, scouting (participating in Tiger, Cub, Boy, and Explorer Scouts), and collecting (patches, baseball cards, models, books, and more). He completed the Marine Corps' first marathon in 1976. Jerry maintained an interest in the outdoors through scouting, both as a scout and leader of his son's troop. He respected the outdoors, instilling that it was best to leave nature as you found it. Jerry also spent 38 years as an active member of the Moose Lodge.

Jerry, however, enjoyed his family most of all. Being away from his parents and brothers was difficult during a military career, but he treasured those opportunities to see extended family every chance he could. As his extended family grew, Jerry had more photos to share with family and friends, and had to make more room on the refrigerator.

Jerry is survived by his wife of 47 years, Teresa Gooch, of Great Mills, MD, children, Jonathan Gooch and Carrie Hentz-Gooch of Falls Church VA, Scott Kramer and Janet Kramer of Richmond, VA, and grandchildren James Kramer, Katharine Kramer, Juniper Gooch, and Charles Kramer. In addition to his mother and father, he was predeceased by his brother Robert Gooch, sister Betty Sue Gooch, and brother Charles Goss.

Family will receive friends for Jerry's Life Celebration on Saturday, March 27, 2021 from 5:00pm to 8:00pm, with prayers recited at 7:00pm at Brinsfield Funeral Home, P.A., 22955 Hollywood Road, Leonardtown, MD 20650. Interment is pending, and will be determined at a later date.

Flowers will be accepted or you can send memorial donations in honor of Jerry to the Wounded Warrior Project, P.O. Box 758516, Topeka, Kansas 66675-8516 or call in donations to 855-448-3997.

Condolences to the family may be made at www.brinsfieldfuneral.com.

Arrangements by the Brinsfield Funeral Home, P.A.