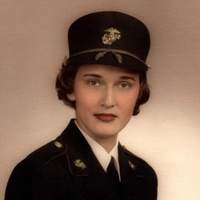 Katherine Patricia (Tomko) Vymetalik, also known as Katarina and Cathy, passed away peacefully at Charlotte Hall Veterans Home in Charlotte Hall, Maryland on the evening of March 4, 2021. A private family viewing was held at the Brinsfield Funeral Homes & Crematory, P.A., in Charlotte Hall, Maryland, on March 7, 2021.

Katherine was born in Cuckoo (Pendleton), Louisa County, Virginia. She was the youngest of 11 children on the John Steve and Elizabeth (Bernát) Tomko family farm. Her siblings were Annie Elizabeth Tomko, Helen Stanchak Sodomick, Josephus, Steve Paul, John Andrew, Mary Margaret Ciampichini, Frank Edward, Irene Dorothy Secreti Halstead, Paul Edward Tomko, Sr., and Rosalie Evangeline Harmata.

Katherine attended Louisa County High School in Mineral, Virginia, where her senior year had her busy with studies, Choral Group, Band, Library Club, and Safety Patrol. Katherine had dreamed of joining the United States Marine Corps since she was 13 years old. After graduating high school in 1954, she worked for a year as a clerk typist in the Freight Terminal Department (FTD) of the Naval Supply Center.

Katherine fulfilled her dream of joining the Marine Corps in 1956, passing her initial tests in September in Richmond, passing her physical exam at the Marine Corps Recruit Depot in Parris Island, South Carolina, in October, and being assigned to the Marine Corps Schools in Quantico, Virginia, for duty in November. She had become a "lady leatherneck."

Before Katherine left FTD, she said, "I've always wanted to join the Marines. My older brother, Paul, served in the Marines for two years and is now in the Reserves. I like the Marines and I want to help protect my country." Although music was her hobby and passion, she told her FTD employer that she "plays the flute, but doesn't expect to have much time for it in the Marine Corps."

After serving for almost three years at Quantico, Katherine received an Honorable Discharge in September of 1959, having attained the rank of Lance Corporal (E-3).

Katherine is preceded in death by her former husband Henry Mazanek Vymetalik (married 1962; divorced 1974), and is survived by her two sons, Alan Vincent Michaels (born Indra Vymetalik, 1962) of Rochester, New York and Daniel Dana Mazanek (born Dana Vymetalik, 1966) of Williamsburg, Virginia, along with her three grandchildren, Sarah, Collin, and Lauren.

Katherine will be laid to rest with military honors in the Cheltenham Veterans Cemetery in Cheltenham, Maryland in May (details will be updated here in mid-April). In lieu of flowers, the family requests that donations be made to your preferred farm or music organization in honor of Katherine.

Condolences to the family may be made at www.brinsfieldfuneral.com.

Arrangements by the Brinsfield Funeral Home & Crematory, P.A.