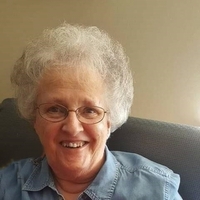 Leah Jeanette Davis Thompson of Hollywood, Maryland, passed away on March 10, 2021, surrounded by her children, grandchildren, and great-grandchildren. She was 82. Jeanette was born on September 23, 1938, in Asheville, North Carolina, to Clarence & Helen (Guthrie) Davis. She was a graduate of Appalachian State Teachers College (now Appalachian State University) and Mars Hill College (now University).

On June 15, 1962, while visiting her great aunt in Avenue, Maryland, she and her family attended one of Paul's auctions in Leonardtown. At that auction, filled with "old farmers," she noticed a young man walk in and sit in front of her and next to his family. He quickly left, but when he returned, he stood right next to her. He couldn't bring himself to speak to her! After a few awkward moments, she finally broke the ice with "There sure are a lot of people going by here" in her beautiful Southern accent. That young man was Rodney Thompson, who had just graduated from college in New England. It was love at first sight. Before two weeks passed, she had signed a contract to teach with St. Mary's County Public Schools and rented a room across the street from Rodney's parents' house. They were married on February 9, 1963, at West Asheville Presbyterian Church. Together, they raised five children, built several houses, started and ran Homestead Auction Company for many years, and helped found the Leonardtown Church of the Nazarene.

Jeanette loved her Lord and Savior Jesus Christ and was a self-educated Bible Scholar. She taught Sunday School and Bible studies for children, teens, and adults at Hollywood and Leonardtown Nazarene Churches for many years. Her life was a musical—she had songs for EVERY occasion! She loved to read, knit, crochet, and travel. Her favorite trips were with Rodney and their family back home to the mountains of North Carolina, but she also traveled around the U.S. with Rodney and the Hollywood Harmoneers, and to the Canary Islands, Denmark, Greece, Portugal, Israel, and England. On a trip with Rodney to Hollywood, Florida, she ended up on the CBS Evening News with Dan Rather! An excellent cook, her homemade fried oysters were the best in the county. Jeanette was a 30+ year survivor of breast cancer.

Jeanette was predeceased by her parents; her brother Michael and his first wife Janice; and her beloved husband, Rodney, who passed away on June 14, 2018.

She is survived by her brother, Raymond (Glenda) Davis, and Michael's wife, Missy Coulter, her brothers-in-law Tim (Helen) Thompson and Jerry (Linda) Thompson, and her sister-in-law Barbara Thompson, as well as her five children: Leah (Richard) Menard, Drew (Candace) Thompson, Gayle (Tom) Kelly, and Wade Thompson, all of Hollywood, and Philip (Dana) Thompson of Glen Burnie; ten grandchildren, and 19 great-grandchildren, and at least one more on the way.

Pallbearers will be Jeff Davenport, Ryan Kelly, Jeff Kirby, Jamey Thompson, Jerry Thompson, and Dustin Wheeler.

The funeral service will be streamed at https://www.facebook.com/HollywoodNazarene/live_videos/

Memorial contributions may be made to Leonardtown Church of the Nazarene, P.O. Box 1110, Leonardtown, MD 20650.

Condolences may be made to the family at www.brinsfieldfuneral.com

Arrangements by the Brinsfield Funeral Home, P.A.