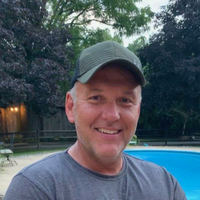 Anthony "Tony" Glenn Jewell, 54, of Mechanicsville, MD passed away unexpectedly on March 9, 2021 at his home. He was born on July 26, 1966 in Maryland to the late William Ray Jewell and Annie Belle (Robbins) Jewell. He was the final addition to their happy and boisterous family of eleven (11) children.

Tony married Sheri Lane Jewell, on October 23, 1993 and together they spent 27 wonderful years of marriage. Their union gave him a step-daughter, Lindsey and then blessed them with two sons, Jake and Lane. Tony worked for NGA as an Installation Management Officer and enjoyed his job and co-workers. He made many wonderful friends during his time there.

A true family man, with an infectious smile and heart of gold, Tony was the pillar of his family. His presence was larger than life and made everyone feel loved and welcomed. Tony was the very best husband and father, he loved to spend time with them just hanging around the house or relaxing at the beach on vacation. Just being in their company brought him joy. During the summer months, he could be found floating around the pool with his favorite songs playing in the background. He enjoyed the peace found under the sun, the sound of his children and grandchildren's laughter and knowing his adoring wife was by his side.

He was a hero in the eyes of his wife and children, a funny man to his grandchildren and a blessing to all that knew him. Tony may have left us behind for his golden palace, but know his guiding light is shining brightly showing you the way on your own golden journey. He is the whisper in the wind, the sun warming your skin and twinkle in the eyes of children.

Tony is survived by his loving wife, Sheri Jewell; children, Jake Anthony Jewell currently stationed in Montgomery AL, Lane Michael Jewell of Mechanicsville, MD; grandchildren; Kameron, Khloe, Kolton, Keegan and Kooper. He is also survived by his siblings, Charles "Charlie" Jewell, Doug Jewell, Mary Coffey-Winstead, Dee Weber, Patty Sepety, Paula Gowen and Teresa Jordan. Tony is preceded in death by his parents, and siblings, William "Billy" Jewell, Martha Kite and Ann D'Avanzo.

The family will receive friends for Tony's Life Celebration on Saturday, March 20, 2021 from 1:00 p.m. to 3:00 p.m. at Brinsfield Funeral Home & Crematory, P.A., 30195 Three Notch Road, Charlotte Hall, MD 20622. The Memorial Service will be held at 2:00 p.m. and officiated by Deacon Bill Kyte at Brinsfield Funeral Home. The service will be livestreamed on the Brinsfield Funeral Home website www.brinsfieldfuneral.com beginning at 1:50 p.m.

Condolences to the family may be made at www.brinsfieldfuneral.com.

Arrangements by the Brinsfield Funeral Home & Crematory, P.A.