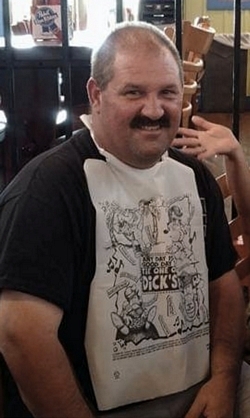 Robert Allen Millar of Hopewell, Va. passed away at Chippenham Hospital in Richmond, VA on March 1, 2021 at the age of 49. Robbie was born July 8, 1971 at Cafritz Hospital in Washington D.C. He was the son of Linda Millar and the late Russell Millar of Hollywood, Md.

He was married to Pamela Anne Morgan on March 4, 2005 in Leonardtown, Md. In addition to his wife and mother he is survived by his daughter, Samantha Tippett (Ryan) of Hollywood, Md. his son, Collin Millar, of Hopewell, VA stepson, David Thompson (Alicia) of Chaptico, Md. and his grandchildren, Jaxon Goddard, Carsyn Tippett and Ryder Thompson. He is also survived by his sister, Cara Bean (Scottie) and beloved niece and nephews Erin, Kevin and Lindon Bean, of Hollywood, Md., Mother-In-Law Estelle Morgan, of Mechanicsville, Md., Sister-In-Laws Robin Lusby (Blaine) of Lusby, Md., Bonnie Espina (Mark) of Potomac Heights, Md. and Marica Ridgell of Compton, Md. and nieces and nephews Steven Lusby (Jessica), Sammy Lusby (Allison), Amanda Espina (Cullen), Andrea Carroll Allison Estes (Neil), Ryan Espina, Tiffany Beall (Rob), Billy Ridgell (Brittney) and Allen Ridgell and also life-long friend Willie Ridgell (Aggie). He leaves numerous aunts, uncles and cousins from his extended family. Recently he had become acquainted with his family members of the Barrett family and was looking forward to getting to know all of them.

He graduated from Leonardtown High School in 1989 and was a long-time member of Hollywood Volunteer Rescue Squad, the Hollywood Optimist Club, the Jefferson Park Volunteer Fire Department and the Hopewell Moose Lodge. He loved donating his time to cooking fried chicken, crabs and oysters for various functions at these organizations.

Robbie loved to go deer hunting and fishing. He and his family loved to vacation in Myrtle Beach, SC and he and Collin took many head boat fishing trips from there and the Virginia Beach area.

Robbie was quiet by nature but loved to encourage his children in sports and activities. He was happiest when watching Collin, Samantha and David play softball, baseball, soccer and football.

With the arrival of his grandchildren, he was extremely happy and loved to buy little gifts for them.

A service will be held on Sunday, March 7th at 1 p.m. at the J. T. Morriss & Son Funeral Home, 820 W. Broadway Avenue, Hopewell, VA.

Additionally, a celebration of his life will be held on March 27th at 1 p.m. at the Hollywood Volunteer Rescue Squad, 43256 Rescue Lane, Hollywood, Md.

For those who wish to honor his life of community service, donations can be made to the Jefferson Park Volunteer Fire Department, 4225 Jefferson Park Road, Prince George, VA 23875 or Hollywood Volunteer Rescue Squad, 43256 Rescue Lane, Hollywood, MD.