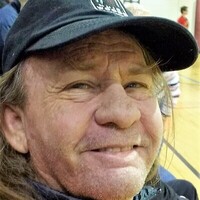 John A. Berger, 60, of Mechanicsville, MD, passed away Monday, March 1, 2021, at his home surrounded by his loving family.

He was born on February 21, 1961 at Hamilton Air Force Base in San Rafael, CA. to Elmer "Rusty" Berger, Jr. of Pillsbury Township, Swift County, MN and Mary "Mickey" Berger of Yreka, CA.

John grew up in Marin County, California a short distance from the Pacific Coast line. He loved the giant redwood trees of Muir Woods and the coastal mountains especially Mount Tamalpias (the sleeping lady). He worked for two years in the local Conservation Corp cleaning and rebuilding trails on the mountain with small logs and rocks. He was a member of the Boy Scouts of America climbing to the rank of 1st Class, and he enjoyed playing baseball.

John attended the College of Marin and Homboldt University working towards a degree in Forestry. He was extremely knowledgeable about plants and trees, and he worked many years as a nurseryman. He loved helping customers, and he hand drew intricate landscape designs for his customers. John planted many trees, shrubs, and gardens at his home in Mechanicsville. Locally, he worked at Wentworth Nursery and the Greenery over the years.

When John's health declined to the point he could no longer work, he turned to baking. He is famous for his "Goody bars" and fried chicken. He also enjoyed attending soccer practices and games to watch his son, Danny play. It was very important to him to make sure he waited with Ben and then Danny for the school bus in the mornings. No matter what he was going through physically, he always wanted to be there supporting his sons.

John was diagnosed with Type 1 diabetes at the age of 5. He lived his entire life enduring illness, but he never complained. He was compassionate, loving, and always focused on his family and friends. John received kidney and pancreas transplants in 1999 at the University of Maryland in Baltimore, MD, His transplanted kidney was donated to him by his father, Rusty, which meant the world to John. In 2015, he was diagnosed with Stage 4 cancer. He fought bravely and defeated the cancer three times losing an arm to the disease in 2017. He was an inspiration to many.

In 1998, John married his beloved wife, Anita Dufour Berger. Together they celebrated 22 years of marriage. In addition to his mother, father, and wife, John is also survived by his children: Benjamin D. Godwin of Lexington Park and Daniel A. Berger of Mechanicsville, his sister, Triece Bartlett (Steve) of Seaside, CA, Grandmother Esther Berger, and many extended family and friends.

John was predeceased by his sister, Laura Matteson (Andy).

Gifts in memory of John Berger may be sent to the University of Maryland, Baltimore Foundation (Checks payable to UMBF, Inc.) in support of the Surgery Transplant Fund #26172. Please send your check to University of Maryland, Baltimore Foundation, Office of Philanthropy Operations, 220 N. Arch Street, 13th Floor, Baltimore, MD 21201, Attn: Surgery Transplant Fund.

Condolences to the family may be made at www.brinsfieldfuneral.com.

Arrangements by the Brinsfield Funeral Home, P.A.