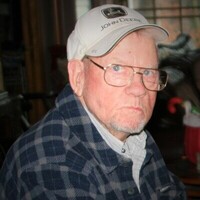 Grady Aary Ramey, 82, of Mechanicsville, MD, passed away with family at his side at MedStar St. Mary's Hospital in Leonardtown, MD on February 14, 2021. He was born on August 27, 1938 to the late Bert and Carrie Ramey in Walhalla, South Carolina. Grady was one (1) of four (4) children.

Grady was a firm believer in education and made great strides in educating himself through adult education classes. He worked diligently making great progress. Growing up very poor and having very little, he was passionate about helping others in need, giving clothes, coats, bicycles, cash, whatever was needed. Grady was a quiet man with a huge heart.

On December 27, 1956, Grady married Patricia (Keller) Ramey and together they shared 64 years of marriage. Grady worked hard from a very young age to support his family as a lumber sawyer, working for various lumber companies throughout the area. He was proud of his work and had a strong work ethic. He retired in 2000 and was thrilled to spend more time with his five (5) grandchildren and his three (3) great-grandchildren.

Grady loved being outside in the great outdoors. He could often be found fishing, in his garden, tending to his yard, or tinkering with some project around the house. He found joy in staying busy and being with his family. Grady will be greatly missed by his friends and family.

Grady is survived by his wife Patricia (Keller) Ramey of Mechanicsville, MD; his daughters Loretta A. (Ramey) Graves of Mechanicsville, MD; and Barbara L. (Ramey) Shawyer (Kenny) of Huntingtown, MD; his daughters-in-law Carol Ramey Ludka and Frannie Hammett; his grandchildren Melanie Graves, Jeremy Graves (Krystal) and Shawn Ramey (Chelsea), Ashley Shawyer and Cali Shawyer; great-grandchildren Shawn Ramey, Carter Graves, and Isabella Ramey, along with many other extended family members.

He is preceded in death by both of his parents, Bert Ramey and Carrie (Chappel) Ramey; his sons G. Carl Ramey and Steven D. Ramey; his brothers Roy Ramey, DeWitt Ramey, and his sister Ella Mae (Ramey) Nicholson.

An Open House for friends to visit with the family will be held at Grady's home in Mechanicsville on Saturday, March 6, 2021, from 1:30 pm – 3:30 pm. Please remember the COVID-19 protocols during your visit.

In lieu of flowers, the family asks that you donate to The Literacy Council of St. Mary's – https://literacysmc.org. You may give electronically through their website, or by sending a check to The Literacy Council of St. Mary's, c/o Lexington Park Library, 21677 FDR Blvd., Lexington Park, MD 20653.

Condolences may also be made to the family at www.brinsfieldfuneral.com.

Arrangements by the Brinsfield Funeral Home & Crematory, P.A., Charlotte Hall.